It's exciting and scary to launch a new startup from scratch. Entrepreneurs are willing to work hard, surround themselves with like-minded individuals, and watch their ideas come to life. In addition, it is commonly known that most new startups fail, which is disheartening enough to sap any hope.
However, there are crucial elements for startup success that sometimes go unnoticed and end up being the cause of delays and failures. By removing them early on, a firm may boost its chances of success and ensure that it is thriving
All successful startups also possess shrewd planning, diligent effort, and persistence.
With the introduction of India's first-ever Startup Ecosystem, TheCodeWork hopes to fill that gap between ideas and realities.
The one-stop solution to all your startup problems.
There are four key factors you must consider when starting a new project in order to assist ensure its success.
1. YOUR STARTUPS TECH TEAM'S STRENGTH
As a business creator, making an investment in a talented technical staff is never a waste of time, money, or resources. On the other hand, skimping on funding and attention to your startup's or company's technological side will undoubtedly be a costly error.
2. HOW YOU BRAND YOUR START-UPS!
One constant that can help keep your business focused and maintain its integrity amongst all the growing and development that every startup experiences is your brand.
3. OVERALL LEGAL FRAMEWORK OF NEW AS WELL AS NOT-SO-NEW STARTUPS
The business's legal structure makes sure that your service or product is protected, that you aren't operating unlawfully, and that you won't lose out if your team changes.
4. SOURCE OF CAPITAL
These are what keep any startup alive. You will run out of money if you don't have the capital to support your cash flow, and it will usually happen when you least expect it. You can benefit from networks on both the buying and selling sides. Knowing the ins and outs of the field you work in is really valuable.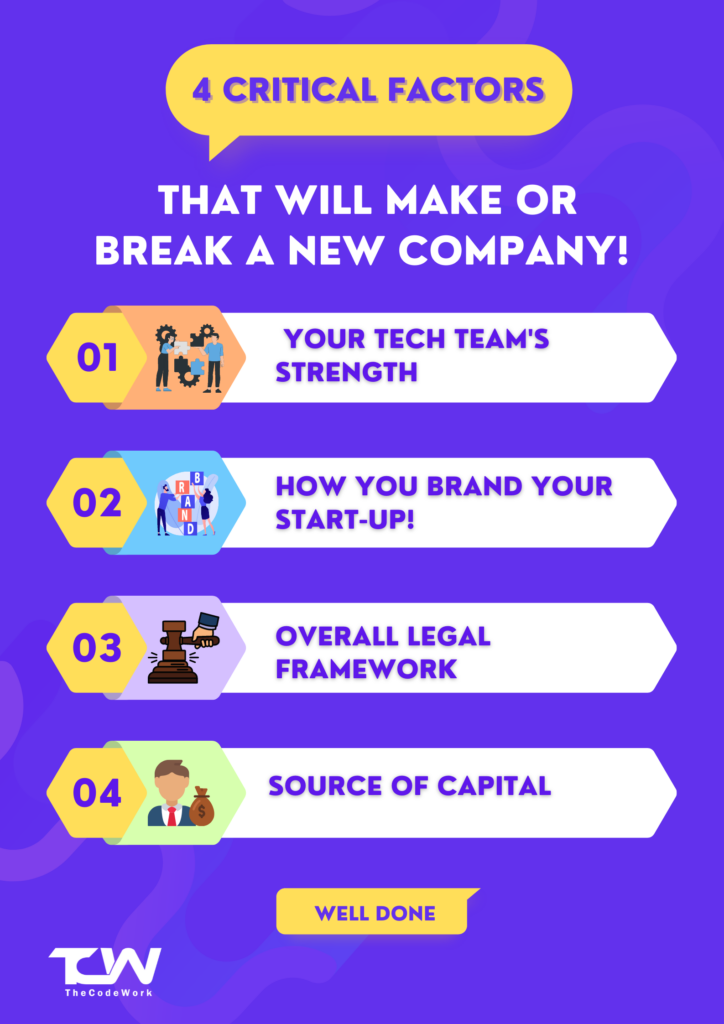 It can be challenging to run a new business flawlessly and without making any blunders. There is a lot of work to be done, numerous KPIs to monitor, and few resources on which to rely. A person should also be on the lookout for outside factors that are out of their control.
However, firms that take a calculated approach to their work and leave nothing to chance typically endure longer and expand more quickly.