A product launch is a company's deliberate endeavor to release new or enhanced products onto the market. After generating a sufficient amount of buzz, a product is launched successfully to the public. They also work with other departments to coordinate the efforts of the product team members so that the organization as a whole can support the new product in a coordinated manner.
A thorough product launch involves a significant time and manpower commitment. These obligations, however, will prove worthwhile for businesses that prioritize their products. A new product can draw the proper kind of clients with a grand launch. This accelerates the rate of product uptake and enables a business to realize a speedier return on its product development expenditure.
So What exactly is a Product Launch?
An official launch involves more than just tweeting "We're open!" on social media. A concerted effort is made to make the product usable before a deadline and then to properly advertise the product through various channels. A business's numerous teams and divisions must work together on this large-scale initiative.
When businesses release new products, 63% of customers say they are happy. When a product or service is new, customers are frequently more enthusiastic and interested in it. You can miss capturing your target market while their interest is at its highest by releasing an excellent product without properly preparing the world for its arrival.
There are 6 stages to the launch: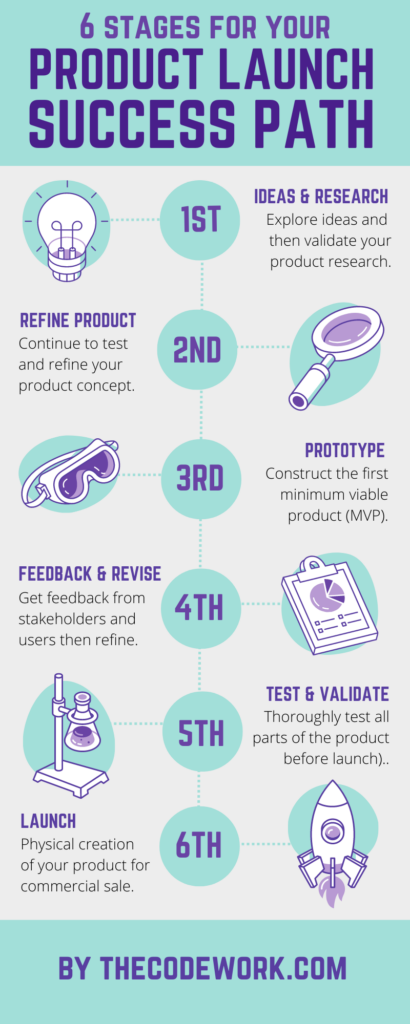 Key Takeaways
A product launch is a procedure a business uses to introduce new or improved items to the market.
Here are some pointers for creating a successful product launch:
putting the customer experience first
Using the data from your product to guide strategy
making a checklist for a product launch
starting early and making changes as you go
KPI tracking and internal and external feedback are two ways to quantify and qualitatively assess a product launch's success.
And I am very excited to present to you: TheCodeWorks's Zero Equity Startup Ecosystem! The first of its kind in India, our Startup Ecosystem is here to solve all your startup-related problems in a jiffy!
Credits to – Amplitude