Beginning a brand-new small business? Understand where to start and how to succeed.
Before establishing a business, you want to make sure you are well-prepared, but you also understand that things will probably go wrong. You must be flexible in order to manage a successful firm.
A key component of creating a business strategy is conducting in-depth market research on your industry and the characteristics of your target market. This entails conducting surveys, convening focus groups, and looking into SEO and open data.
Prior to launching your product or service, you must establish your brand and amass a fan base of customers who will be eager to support you once you start doing business.
Entrepreneurs who want to learn the fundamental procedures for launching a new firm should read this article.
TheCodeWork aims to bridge that gap between concepts and realities by introducing India's first-ever Startup Ecosystem and listing you among all the successful entrepreneurs.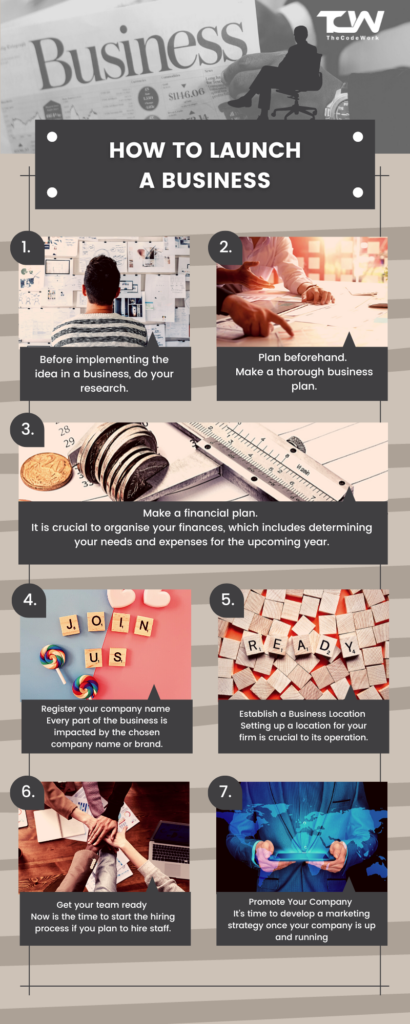 One of the best methods for modern firms to start along the path to success is through this-
" India's first-ever Startup Ecosystem "
The one-stop solution to all your business problems. From tech team to funding, to brand building and even legal network, we have it all covered for you!
WHAT DO WE COVER?
👉Funding
👉Tech
👉Branding
👉Legals
👉Expertise
Owning a startup is challenging, but with the correct strategy, you can position it for success. Prior to starting your business, examine your needs, establish a strong strategy, and file your legal documentation. When you have a sound business plan and the funding necessary to carry it out, you'll be well on your way to starting a prosperous company.