Reading Time:
11
minutes
Hey there! Are you in digital marketing and aspire to explore this field? Then I must say you have hit the right side of the internet here. We have something for you. Guess what? Here, we present to you some of the best free digital marketing tools that are available online! Did I just sense some close attention gripping us right here? Well, worth it, I say.
Now, digital marketing has become a great deal to uphold brand awareness and brand identity on the whole. As a result, big companies spend huge amounts to buy the digital marketing stack for their employees. But hey, I know it's not an option for freelance digital marketers or digital marketers working in early-stage startup companies.
This is where we come in! How about discovering some great digital marketing tools online without having to pay a cent? Amazing, right?
See, the internet delivers a dozen of free digital marketing tools for the business platforms to make a prominent digital presence. The world is shifting to an online space and correspondingly, so are we! Now with this many free digital marketing tools at your disposal, choosing the right ones without having privacy concern, becomes a task. Isn't it?
These free tools ask a lot of personal information before letting you use them. With so many great digital marketing tools at zero investment, it is easy to fall into the trap. Once you share your personal information, you are open to receiving hordes of aggressive sales content as well as spam mails. Who needs that! Anyway, we are lazy enough to check on all the mails, and with such add-ons, it gets really messy. Let's help ourselves unclutter, shall we?
We have enlisted the best of the free digital marketing tools that are available on the internet, for you. I am sure there are more in each category, but I will list out the tools that I use personally and above all, trust the most. These encompass all the online strategies of digital marketing.
Take a look, you will love it!
The best of the free tools
Before we begin, let me compile the components that we have in this stack. I had jotted it down before starting my quest. Have a look for a short visual summary.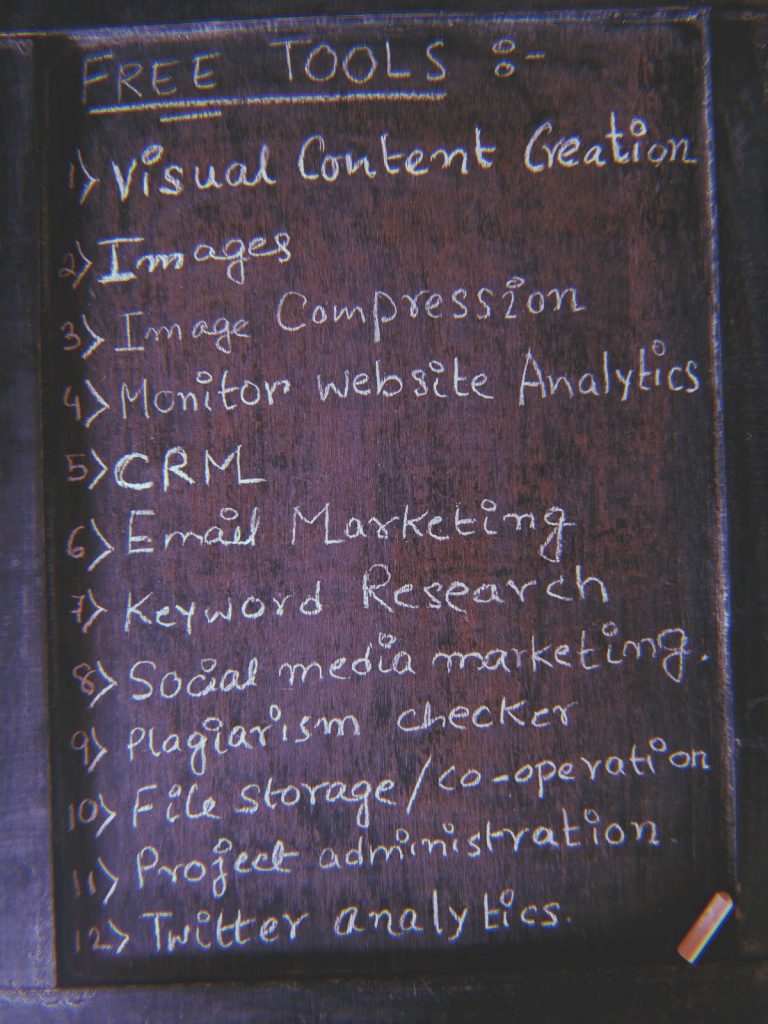 The visual content creation tool
Pixlr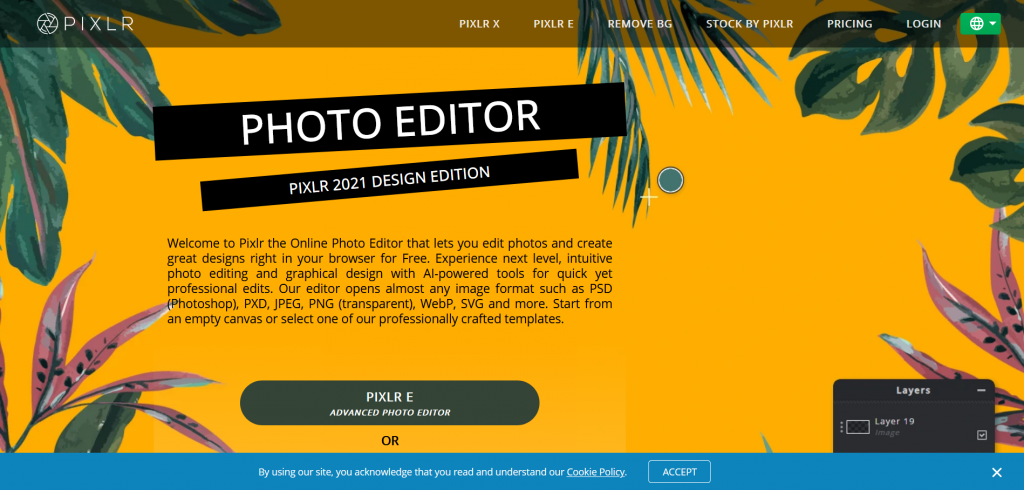 If you are stuck with graphic creatives for your content, then allow me to introduce to you, Pixlr!
Pixlr helps you make attractive creatives by attaching photos and texts. It is a great tool to edit photos online, producing visual treats for your social media platforms. It also contains some fun filters. How cool is that!
Let's check out some of the core features of Pixlr. Here we go:
A too to use entertaining filters.
Good quality editing features.
Some features are almost like the professional editor, Photoshop. This helps to deliver more professional output.
Love it already, don't you?
Canva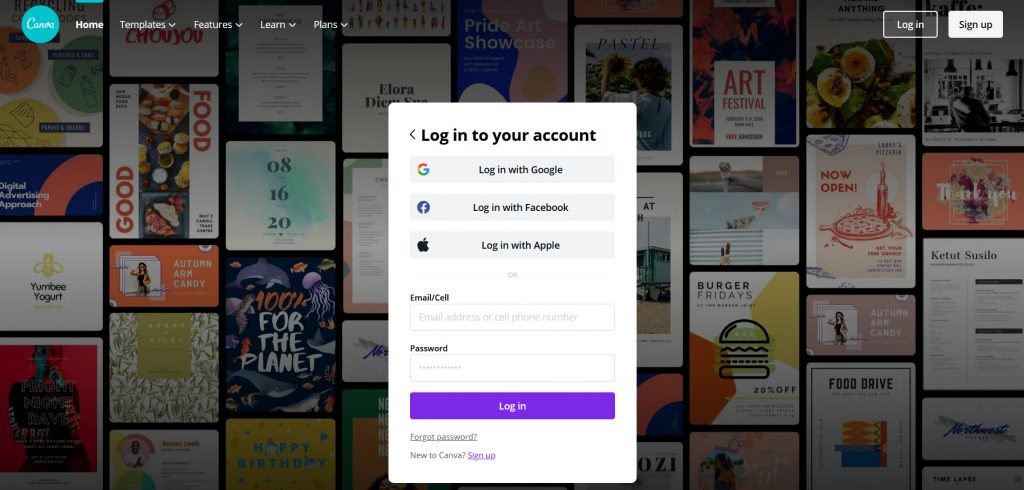 This is another budding creative tool in the world of design. At present Canva has over two million subscribers, globally! Imagine the quality of service then, can you? It helps create attractive posts for social media platforms, blogs, and all other interactive platforms.
Here you get well-optimized images with built-in templates. These features make it easier to custom create images for platforms like Pinterest, Twitter, Facebook and Instagram.
Canva has hit the demand of the millennials in a great way. And why not? It's the perfect tool to engage in when it comes to content creation on social media. Check out some of the added features of Canva:
Built-in templates suited for all possible occasions.
Free of cost stock images and vector art.
Graphics for social media platforms.
Custom prototypes.
Efficient tools for photo editing.
 Amazing, right? Try it today already! 
Reach out to us at TheCodeWork, if you want any kind of assistance with designs and creative analogies. Here, take a look at our profile (Portfolio – TheCodeWork) if you need assistance with Web/app designs.
Royalty-free images
Unsplash
Unsplash summarizes high-quality images that are royalty-free as well.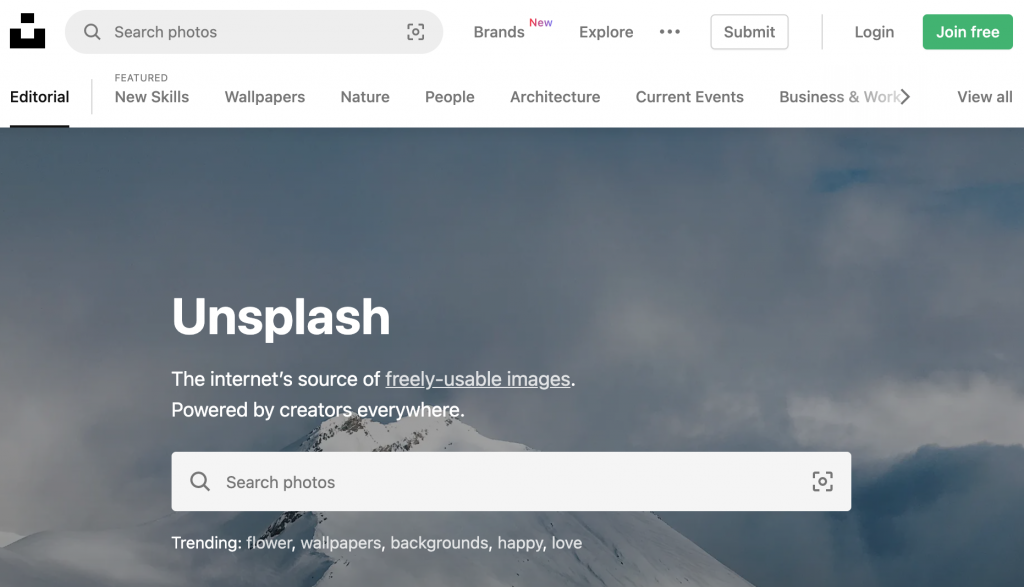 At Unsplash you will find around 300,000 high-resolution stock images. Can you imagine? It offers royalty-free images from over 400,000 volunteers and contributors.  What a massive diversity is that!
Unsplash offers top-notch images, which you will never get bored of. The images are highly exclusive and impossible to find on any other platform! Wanna know how that is possible? Actually they keep updating the stock regularly, hence the fresh diversity!
Just type in the keywords of the image that you are looking for! You will get a whole lot of options to choose from.The features of Unsplash include:
simple and user-friendly layout.
Awesome quality images.
Search is based on keywords.
Navigation is really smooth.
Pexels
Say hello to Pexels because you are about to fall in love with this site pretty soon! 
Pexels is has a collection of around 25,000 high-resolution images that too free of cost! These images also have tags consisting of keywords that helps you discover what you are looking for.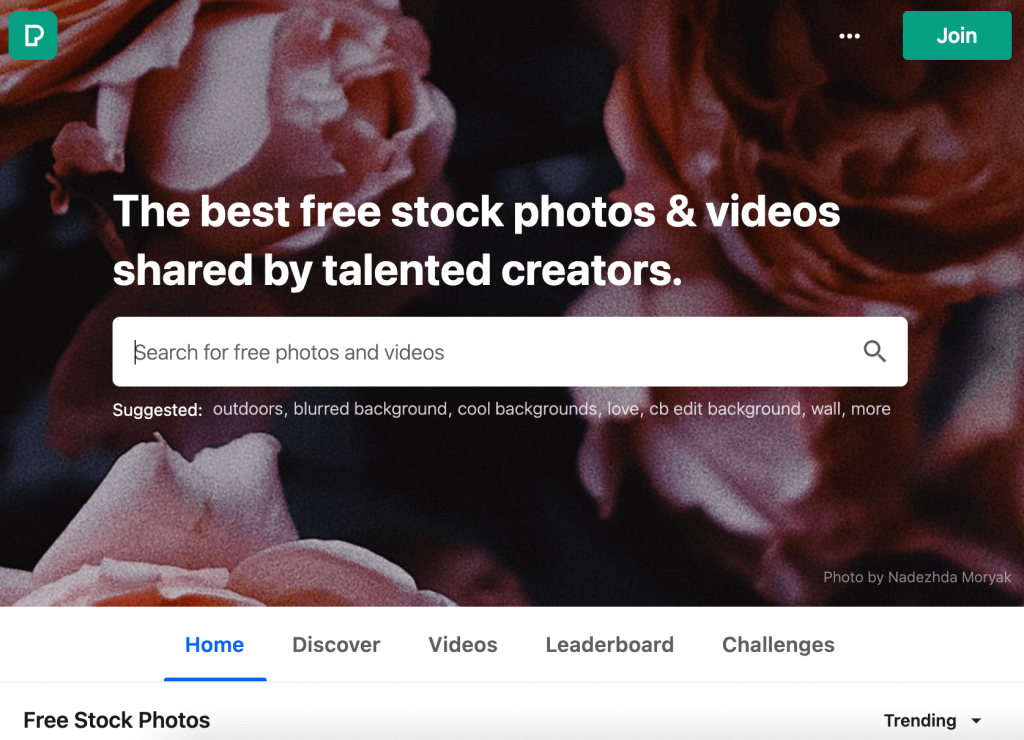 Pexels has these added goodies like:
Discover page – to discover whatever images you are looking for. 
Videos page – to discover brilliant stock videos to use in your projects.
The leaderboard page – shows you a catalogue of photographers and artists. You can choose the person whose work you like to use!
The Challenges section -here you take part in various contests to win cool prizes. You can happily flaunt your photography skills here and may be come in contact with some clients as well!
The best part is still left! Everything here is totally free of cost which you use in any project that you want.
Compress images online
Tinyjpg
While you publish blogs, one of the major challenges is to keep the size optimum. And that really does get in the way at times. The images that you use as the banner and inside story, require to be high-resolution images. So you can't compromise on that too!
Well, high-resolution images are usually huge sized files. Compressing them is the only way out. Now, with compressing images, arises the problem of compromising the quality of the image.
Way out? Tinyjpg.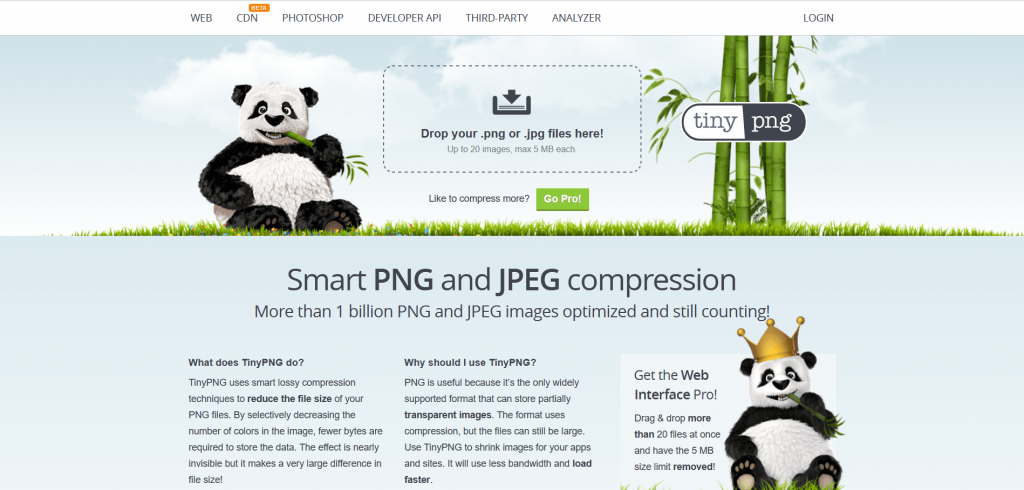 TinyPNG makes use of smooth lossy compression methods to decrease the size of your high-resolution images. It works by reducing the colour balance of the images. As a result, you need lesser bytes to frame the file into the usable form. What smart adaptability!
The result is almost invisible yet it does your work.
Some features of TinyPNG include:
Works with JPEG and PNG images.
The uploaded images must be within a file size of 5 MB.
Stock up metadata.
Direct uploads and URLS, both work fine.
Resizes and optimizes the image.
WebP
Now let's check out WebP. It is a fresh image optimization app in the market, presented by Google. It has the property of raster image optimization without compromising the quality of the image. Now that is a quality that everyone looks forward to, right?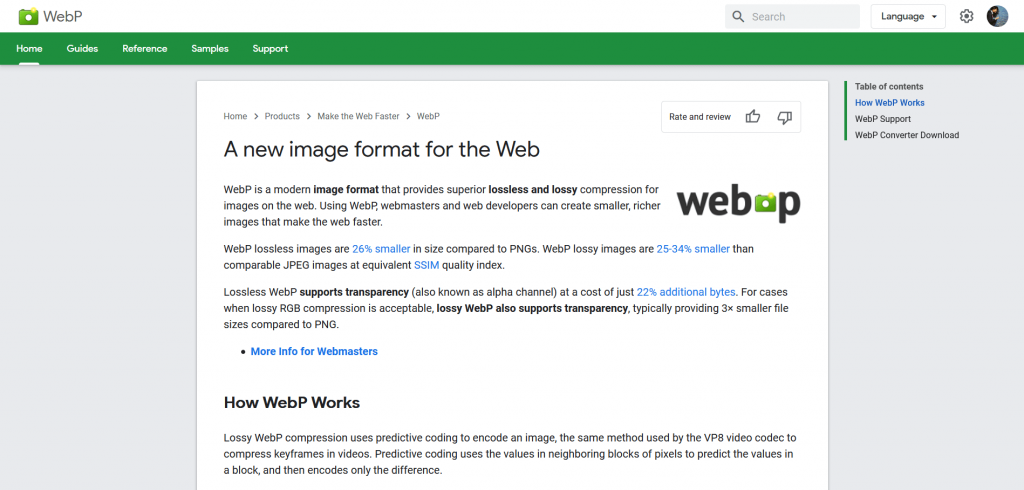 You can use WebP for animated images as well. However, I am sure new updates are just around the corner. The cool features of WebP are here for you:
Built-in ICC color palette.
Alpha channel for lossy RGB images.
Smooth navigation.
Colorful animation and graphics.
Lossy compression.
Monitoring website performance — Smylelytics
What is website performance now? Well, it includes an examination of the website analytics to understand the interaction between your customer and your website. With this record of performance statistics, you may optimize your website to attain your digital goals. I know this is important, but keeping a check on the website traffic is a monotonous and hectic task. Don't you agree?
So, let's talk about Smylelytics.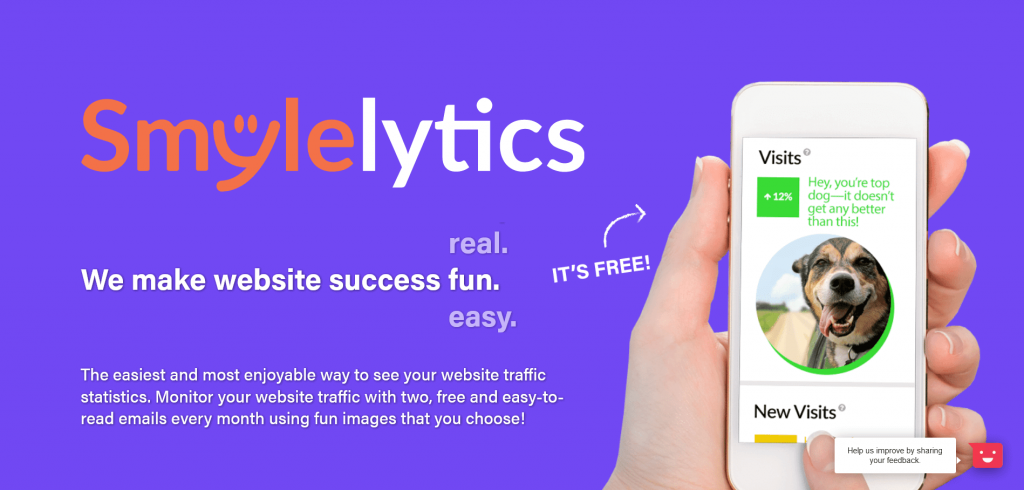 Smylelytics is a very user-friendly tool that guides you with a bi-monthly statement of the traffic on your website. Smooth, I know. This makes the process hustle-free and efficient and saves you from monotony as well.
Get rid of regularly checking Google Analytics to understand your website's online performance with this tool right here. Want to check out the features of Smylelytics? Here we go:
Google Analytics data transformation.
Images representing the website performance for every online indicator.
Bi-monthly email reports that are easy to understand.
Free of cost themes to personalize your email.
Customer relationship management — HubSpot CRM
Customer relationship management or CRM assists your customer relation and management strategies. Right from sales development to data organization, the CRM tool helps you with the customer management process. It also helps you manage professional contacts, workers, customers, leads, and so on.
See how important it is! So having a free of cost CRM tool does sound a mandatory part of your stack, doesn't it? So, allow me to present to you, HubSpot CRM.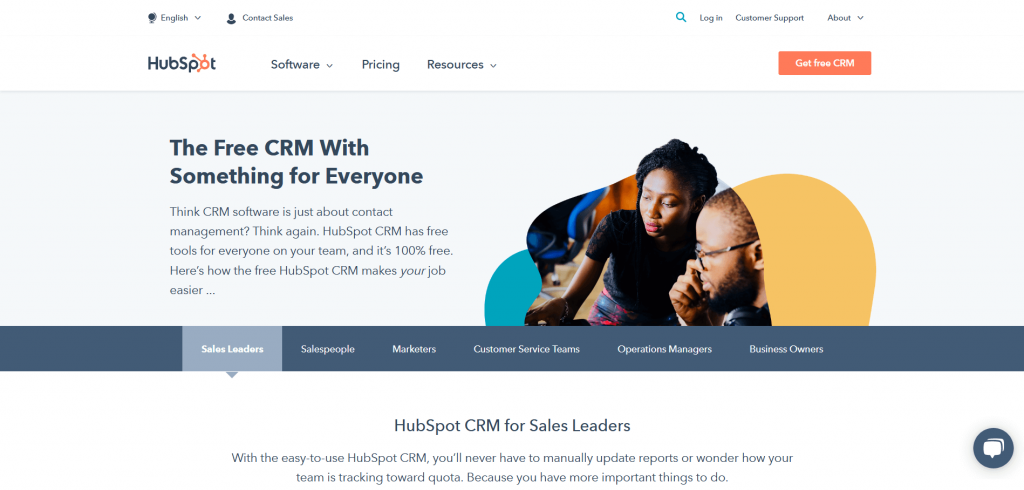 The features of the HubSpot CRM tool, are as follows:
Customizable outlays.
Contract boards.
Assignment boards.
Drag and drop options.
Widespread integration abilities.
Client database.
Email networks.
Templates.
Email marketing/ Email promotion – MailChimp
Email marketing delivers the maximum return on investment compared to other digital marketing strategies. Yes, you heard me! Wait, I will explain. Email marketing helps you reach out to your customer through their inbox.
It allows you to interact with them at their convenience as well. Isn't that desirable? Hence, an email marketing tool is vital for your growth and expansion.
Let's talk about my favourite tool then, MailChimp.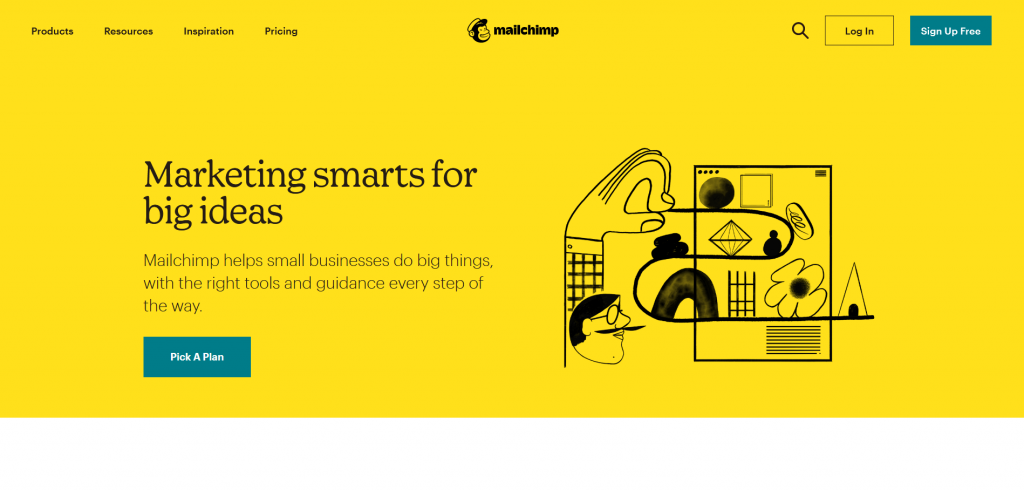 It is an extremely efficient mail marketing tool. Additionally, it comes free of cost. Some of the vital features of MailChimp include:
Smooth email template.
Storage capacity.
Email interface.
List organization with easy navigation.
Autoresponders.
Campaigns.
Subscriber statistics.
Keyword research for blogs —Answer the Public
Organic, unpaid, rankings in the search engines is a significant part of gaining website traffic. Keywords used in blogs are the key sources that help to achieve that website traffic. We all know that. Keywords are like the most vital part of a blog these days.
Tell me, why do you write blogs? To reach out to people, right? Now, if they don't get to your blog only, imagine the waste of time, passion, and energy! Hence, keywords! That leads us to Answer the Public.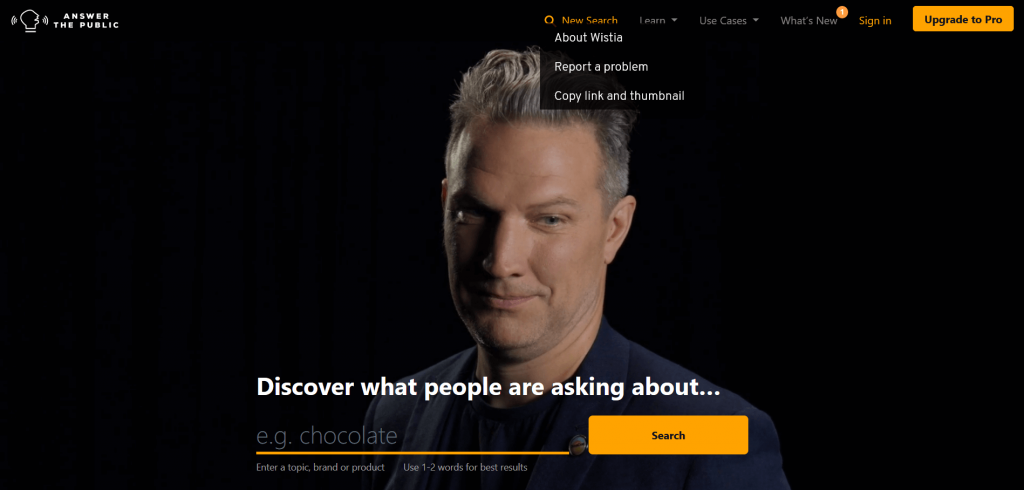 Subsequently, Answer the Public is a vibrant tool to serve this purpose. It helps in efficient keyword research and analysis based on the target market. This is the only site I look up to whenever I need to feed keywords to my blog.
Answer the Public is a basic keyword search tool that keeps a track of the most searched topics and keywords on the internet. Once you provide key phrases of your blog topic, it auto-generates a list of numerous keywords and phrases, alphabetically. What a genius!
So all that you need to do for the best keyword research is type in keywords and wait for the tool to suggest. They base their suggestions on the niche market and target customers.
The features of Answer the public, include:
Limitless searches.
Infinite users.
Search Listening Warnings.
CSV transfer.
High-resolution pictures.
Efficient customer support
Try it out and thank me later!
Local search listing organization — Moz Local
Moz Local is the best digital marketing tool to help entrepreneurs increase their digital competition in their niche market. Oh, how exciting does that sound!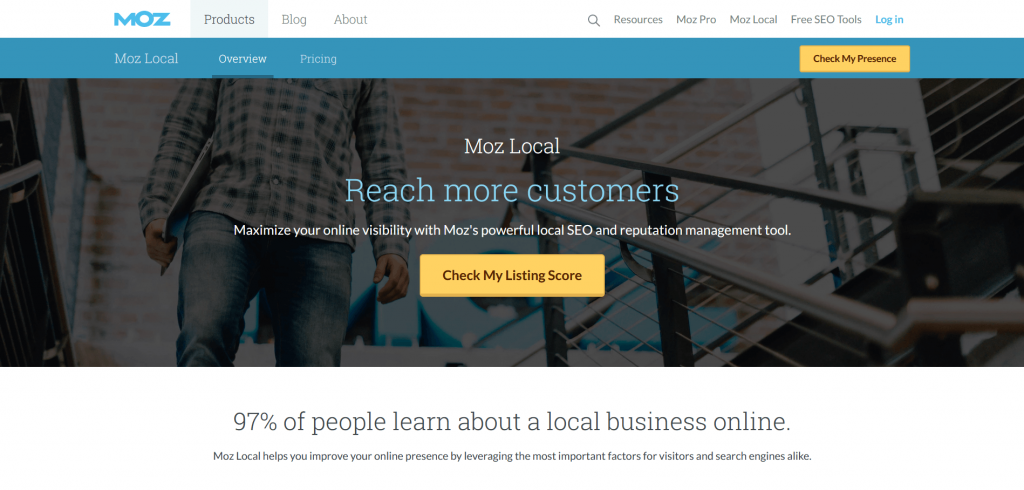 It helps you to get acute statistical insights on the digital presence of your business. It also helps you to track duplicate listings of your site.
The core features of Moz local are as follows:
Approvals for SEO on /off-page.
Competitive study.
Organic tracking of the website rank.
Keyword search volume.
A statement of inbound and outbound links.
In addition to that, you can get a preview of how your business looks on the website and make amendments if required.
Social media marketing — Hootsuite
Social media is the most important platform to promote any business or organization these days. It's the best networking platform now. However, it consumes a lot of time to brainstorm the designs and contents to post on these platforms. You have to stand out through your creatives with the huge competition on these platforms, right? Hence, the time consumption in brainstorming!
However, we have Hootsuite to the rescue!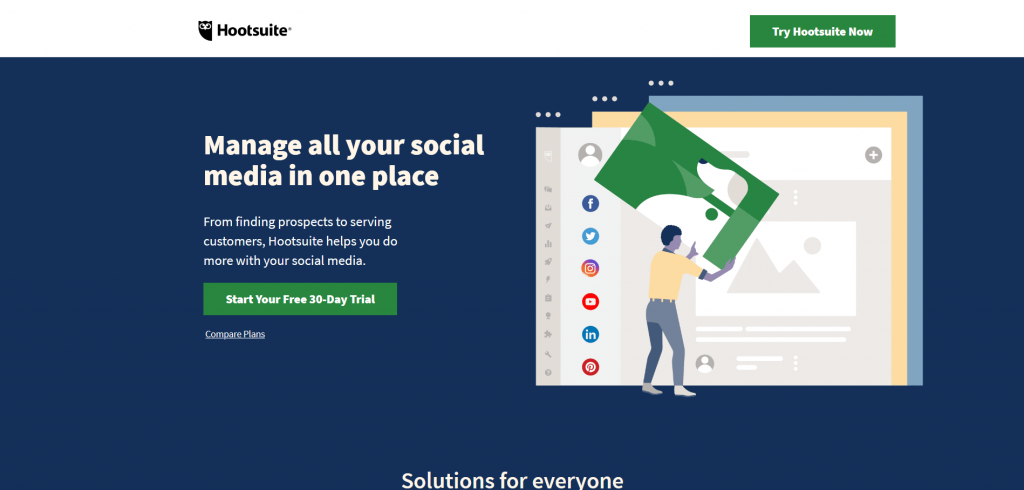 It is free of cost tool that helps you deal with the problems that you face in making regular social media posts. It guides you through the layout of various platforms, so that you may effortlessly navigate the dashboard.
The core features of Hootsuite are as follows:
Circulate posts.
Schedule posts beforehand.
Analyze your feeds.
Simple analytics.
Participate with other apps like Tailwind to make a mark on Pinterest.
File storage and co-operation —G Suite
G suite, presently named Google workspace, is a cloud-based platform. It comprises simple, proficient productivity tools to get work done. Smooth and easy, you see!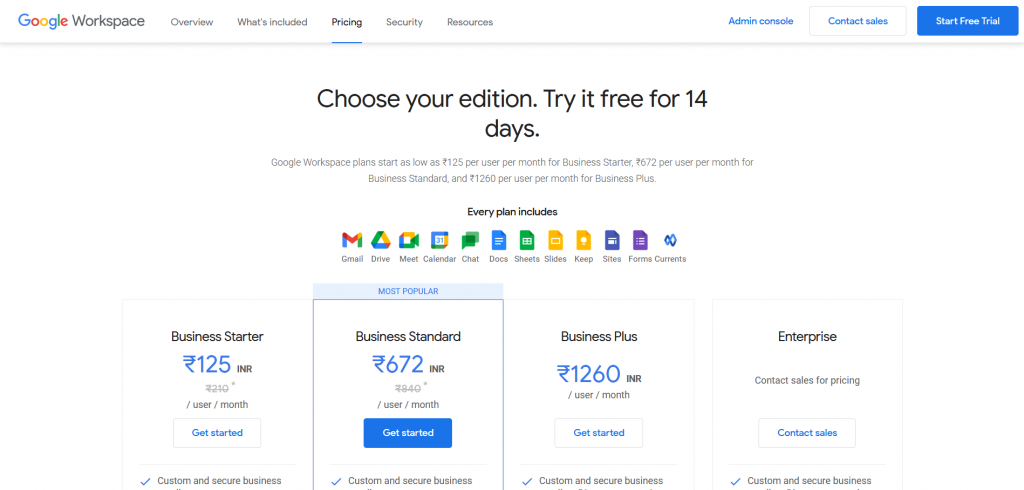 You can use the trial versions by renewing your registration every time! It consists of basic hustle-free features needed to operate to deliver efficient performance.
The core features of G Suite (Google workspace) include:
Google Drive for storage of files.
Docs as a word processor.
Sheets to operate the spreadsheets.
Slides for presentations.
Calendar.
Gmail account.
Google Forms to make and examine various surveys.
Proofreading and plagiarism checker — Grammarly
Trust me, Grammarly is a blessing in disguise! It helps sort out a lot of issues that pop up while writing content.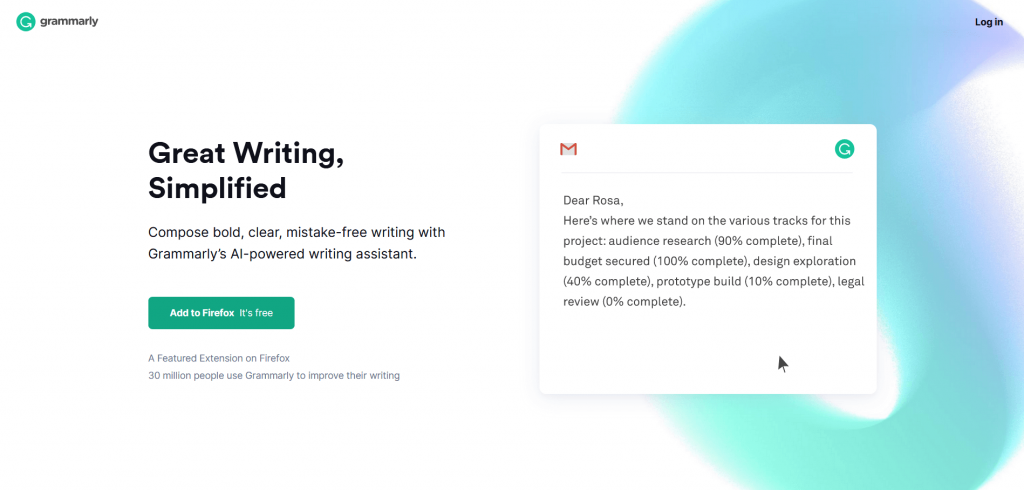 The tool's user interface is very user-friendly and easy to navigate through. Grammarly provides spell checks, grammar corrections, and sorts typing errors as well. It also helps to shorten long sentences and come up with a precise form. See the SEO-friendly part yet?
Grammarly also provides proofreading of the content and suggests the needed changes.
Let's just take you through the features of it:
Spelling checks.
Elementary grammar checks.
Plagiarism check.
Explains the grammatical errors.
Project administration and teamwork — Trello
Project management, yes. It is one of the most important aspects of working as a team. You need to set the deadlines and work towards it, together as a team. You see my point, don't you?
Earlier, businesses used emails to serve the purpose. However, this platform did not fulfil the dynamic requirement of project management and teamwork.
So, here we have Trello. To begin with, Trello is the most efficient and free of cost digital marketing tool available in the market.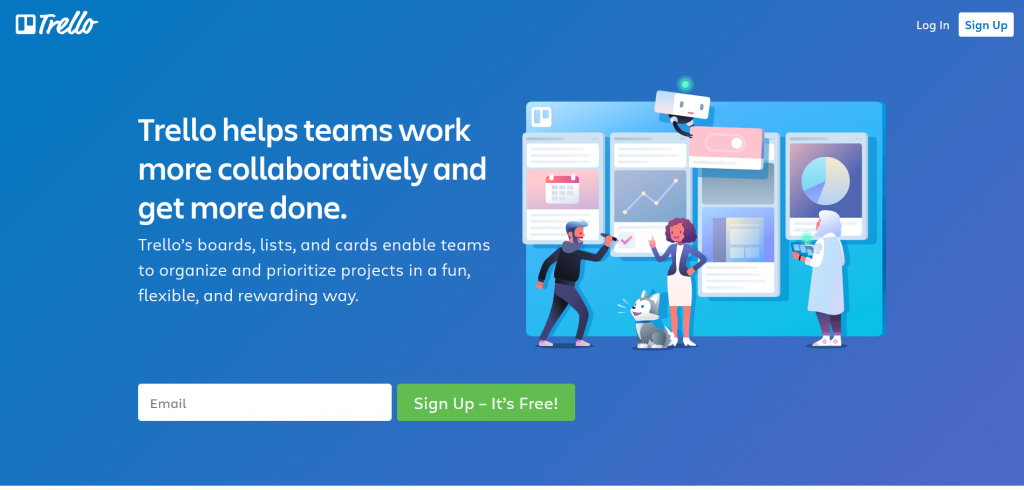 It helps in smooth project administration and teamwork. Trello demonstrates a smooth user interface which is easy for understanding and navigation.
The core features of Trello are:
The simple organization of allocated tasks.
Customizable assignment classification.
Drag and drop options.
Progress charts and checklists.
Information filtering.
Deadline prompts.
Smooth uploads.
Major notifications.
Dashboard and activity log.
Data encryption for tight security.
Twitter management and analytics – Crowdfire
Social media platforms like Twitter, Facebook, LinkedIn can get a little too overwhelming to manage. Especially with the outreaching capability of Twitter, you need to be careful with it as well. So allow me to help you with this one!
You can use Crowdfire to manage your social media accounts smoothly. Crowdfire offers you tools to help you sort your followers and choose the audience that you want in your profile.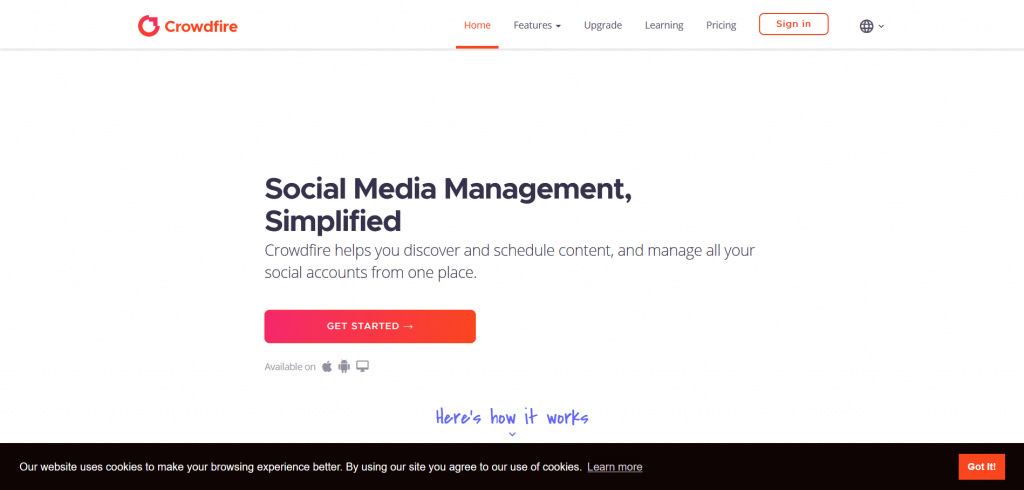 It also provides demographics of the people in your list to identify your target audience and make the necessary informed decisions.
Some of the features of Crowdfire include:
Provides analytics of your Twitter accounts.
DM marketing.
You have the option of removing unwanted followers.
Hashtag tool for trending topics.
Search using keywords and location.
Overview
In conclusion, these are the best free of cost digital marketing tools that you can make use of, to enhance your digital presence. Use these and you will know why I suggested particularly these tools.
The most important thing about the enlisted business productivity and digital marketing tools is that they are safe, authoritative and free to use. That is all we want, don't we? To all you entrepreneurs out there, these are the magic tools to take your business to the next level of promotion and marketing.
These business productivity and digital marketing tools are here to make the process of task management easier. This helps you to operate more professionally. It also brings profit to your business platform. This helps evaluate the worth of time and gets the tasks sorted decently. Tell me, what else are you waiting to hear? It's wholesome!
In conclusion, I hope we have been useful. And talking of businesses, if you happen to be new to this platform and can't follow the flow of these tools, then feel free to get in touch with us, at TheCodeWork. We are here for you!
Happy marketing!