Reading Time:
3
minutes
Content is a huge fragment of daily life. It has become an unavoidable part of our being. Content keeps us up-to-date with the current affairs, solves queries, amuses us, and cheers us up. Content also drives our decision-making ability. It attracts clients, keeps them engaged, and also maintains the customer base. And last but not the least, content helps us earn revenue for our work.
So what is content creation?
Well, Content creation is the procedure of producing fresh topics that vibe with your customer base and attracts them as well. It is basically about generating a graphic or written content with fresh ideas. This helps in reaching out to the clients in the form of a video or a blog or even an infographic with the help of digital presence.
Steps of content creation
Content creation is the most crucial inbound marketing drill for digital presence. You are basically providing valuable information to your clients through content creation. It helps you to attract new clients to your site in addition to retaining your old clients as well.
The content creation guidelines are as follows:
Content arrangement and policy – how the content is represented.
Content making procedure – the arrangement of the content along with the editing part.
Tools – The tools that you use for content creation need to be updated.
Making a content creation strategy – follow a protocol with the creation. Don't be random.
Reviewing your content – review your own content or ask the close ones to do so, before publishing.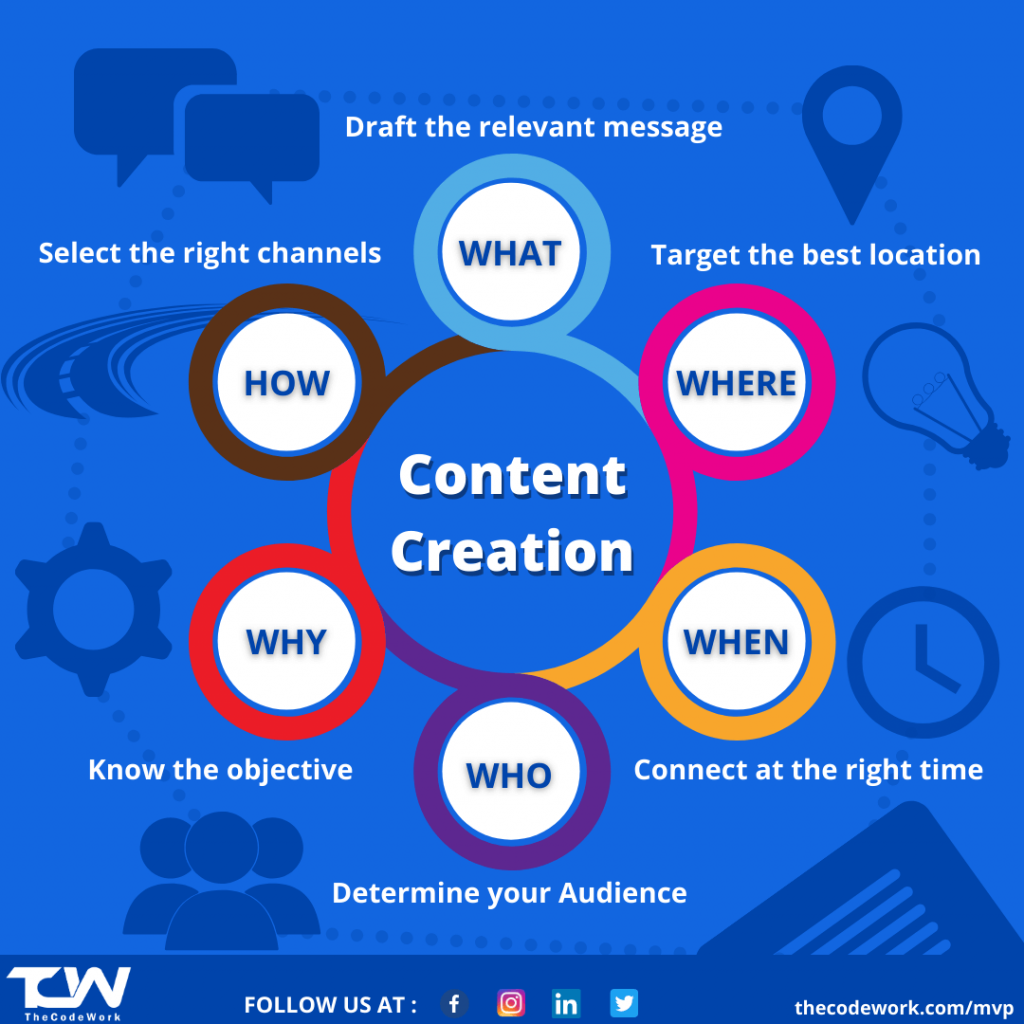 Content creation and future
Firstly, the content generated with the help of good content creation guidelines helps educate people. Now that is important to acknowledge. This is where the importance of content creation guidelines stands.
Moreover, content creation helps you make money as well. For example:
Content marketing attracts three times as many leads as traditional marketing does.
It is cheaper than traditional marketing which helps with cost-cutting.
Almost 60 percent of online shopping is influenced by blogs or videos.
Businesses publishing more than fifteen blogs in a month, experience almost 4 times more traffic compared to sites that publish fewer posts.
At present, content is equal to business. So, do get started today itself with your content making strategy.
Content making approach and strategy
Content creation guidelines comprise everything starting from the brand name and quality to marketing and advertising. Let's check how to build a good content creation strategy:
Content creation objectives: The advertising of the content should be in a way to attract clients as well as get leads. The objectives of your company should be highlighted to attract the right clients. This can be done using various content creation tools, like SEO and Content creation guidelines.
Buyer personality: The main objective of inbound marketing policy is to create content that makes the readers feel like you are talking to them personally. For this, you need to create content that suits your customer base. You may try this through reviews and feedbacks that you get on your service.
Have faith in the consumer's journey: Every content that you make for a consumer, includes fragments like, awareness, contemplation, in addition to decision-making phases. Hence, your content should appeal and vibe with each fragment mentioned above. By doing so, you are confirming that no new client falls through the loopholes. It ensures that your site conveys relevant information to whoever visits the site.
Content review: A content review is merely taking account of the work that you have finished with, and then shaping it in a way to fit the fresh content strategies. Even if there are no new strategies, content review or audit has proven to be fruitful for all businesses by giving you an idea about what the clients feed on and what they reject.
Correct format: A creative mind can create content in the form of a blog, video, slide share, or a graphic outlay as well. Given that it serves your personality, you are good to go and try out any of these. However, just because you hit the right chord with a particular form, you need not keep on repeating it. That may make it lose its charm. Instead, you should try out new forms and do away with monotony. All you need to be constant about is consistency.
Overview
Content creation is a productive method that vibes well with your audience. Content creation tools not only help you get popular with the masses but it also helps you in growing your business. Nowadays, it is impossible to survive the competitive market without it as it upsurges your digital presence. Accordingly, we may happily conclude that that content creation is the future of the job market.
Hopefully, you enjoyed this one on the most viral topic in the market these days. If you want more such related articles, find them on our website,TheCodeWork