Reading Time:
9
minutes
Do you know what hurts the most? When you launch a product based on your innovative idea and it doesn't meet the market's expectations. So how will you ensure that your product is capable of meeting the market demands? Easy! Build an MVP.
MVP is an initial version of a product built on core ideas to test its performance in the market. Simple as that!
Now planning to build an MVP involves planning out a lot of factors like quality, team, marketing, and the list goes on. So let us at TheCodeWork help you take care of that. Sounds good?
See, there are 5 factors that you need to think of when you take the lean approach. They are:
Getting the feedback of early adopters.
If the market will pay to use your product.
Building a product that delivers a good user experience.
Reaching out to the right audience.
Iteration based on user feedback.
So follow up! I bet you won't be disappointed.
A brief on MVP
The Minimum Viable Product, as we know it, is a way to launch a new product in the market without draining all the available resources. It is as simple as that!
This product is installed with the core functionalities that are needed to validate the idea in the target market. What more do you need than testing your idea in the market even before the product development cycle is initiated?
It happens to be the most fundamental form of your idea which is further iterated to a full product. This precise version of your product collects valuable feedback from the market and helps you understand the audience better. How cool is that?
Also check this out: What every entrepreneur should know about MVP?
So as you can already conclude, a minimum viable product helps the team collect a major chunk of validated data about the market with the most minimal effect. Consequently, a startup gets to complete an entire loop of the Build-Measure-Learn loop by showcasing the core features to the early adopters for reliable feedback. Amazing, I know!
Now see, there are 4 major parts of the lean approach of product launch. Have a look!
Value Proposition – Basically the benefits that a customer will receive by using your product.
Customer – This pertains to the target market use feedback is crucial to validate the product idea.
Channel – To tap on the target audience and collect feedback, you do need a channel to reach them out.
Customer Relationship – Talking very optimistically, if the product benefits the target consumers in any way, they must stay in touch with the respective startup. This will help to build on the product via further feedback and iteration.
Tools to Build an MVP
As we have already checked the 4 major aspects of building an MVP, let's check out the tools that are helpful under each segment. You need that, don't you? So here we go!
Getting the feedback of early adopters
No matter what the product idea is, one thing is for sure, and that is – the product is aiming to solve a particular problem. I am sure you agree with me on this.
The most important part of a successful startup is its ability to prove the demand for a problem in the market. This demand needs to be so high that the proposed solution is bound to find a reaction from the target audience. Sounds controversial? Wait a moment and think about it!
For this very reason, the first major concern of a budding entrepreneur must be to validate the IDEA or as we say in TheCodeWork, make ideas happen!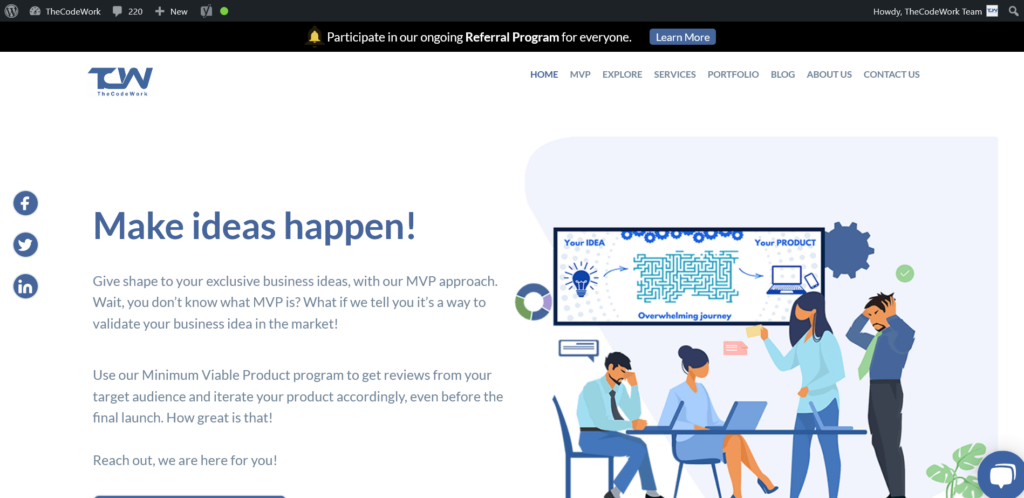 So the next major concern is, how to get the target customers to admit that this 'problem" is real? Interview them! But how?
Worry not, because we have the Customer interview tools any day to help you out. These tools ease out the approach of reaching out to prospective users. How cool is that?
These results will definitely help you understand the validity of the problem whose solution you are trying to sell.
Check these out!
Customer Interview Tools to build an MVP
Typeform happens to be one of the most user-friendly and in-demand tools for customer interviews, forms, and tickets too. The smooth format and user experience are ideal for conducting online surveys and data collection.
Google again! Yes, Google will help you with this too. How about a tool that is smooth, user-friendly, and TOTALLY free of cost? I know right! Google forms make the entire process of online surveys and campaigns a breeze. So now you can concentrate on the bigger picture instead of setting up client interviews for feedbacks and surveys.
LinkedIn is the best platform when it comes to generating early leads and creating a pool of target audiences as well. Go ahead and try this one out!
Check us out on LinkedIn (TheCodeWork) to tap on how we use the platform for similar activities for our clients.
If the market will pay to use your product
Okay, this one is pretty important and easy! see, the landing page of your website is the first impression that the clients will have of you. You agree with me, don't you? When they click on an ad or a referred link, that is where they are going to be led.
The click-through rate evaluates the probability of success or failure of your product. As a result, be sure to keep the CTR low while building the landing page.
Oh and here's a short one!
Keep an engagement section on the page so that the customers can comprehend the viability of your product. Authentic and transparent!
So having gone through the entire purpose of building landing pages, check out the list of essential tools to do so. Here we go!
Tools to build landing pages for MVP
This is basically a no-code platform to build landing page design. However, this is not a free tool. On a happy note, you can give their free trial run, a quick try and see if it's worth your purpose.
As cool as the name sounds, you can try this tool as well to build your hassle-free landing page all by yourself. Amazing, right? You can utilize the trendy pre-built templates that you can customize as per your aesthetics. Go and try it out today!
Okay, this name is too quick to leave anything to guess! So as you can already understand this tool helps create outstanding landing pages within a few minutes. Suits the fast generation, right? It is an amazing tool to test your awesome business ideas, fresh features, and new projects in a cost-effective manner.
Building a product that delivers a good user experience
When you are building an MVP version of your product, the most important segment is user experience. If you are unable to provide a good user experience, how do you expect the audience to be patient enough to try and review brand-new products?
So no matter what you work on, always be sure to deliver a smooth user experience to your target audience. That's all!
Tools to build products with good user experience
Balsamiq is the BEST choice if you happen to be a team and want to build an MVP. It happens to be a tiny graphical tool to build your prototype using wireframes. It is easy for the entire team to use and collaborate while working on a project.
Webflow is a great design tool used to build an MVP prototype that is precise and hassle-free. So crisp, right? You also get to shape the final product out of this, with a single tap. In this way, the transition from MVP to the final product is pretty smooth and seamless.
I mean, who doesn't want that?
Marvel is undoubtedly one of the major prototyping tools in the market at present. You can easily build quality app prototypes and web projects using this tool. Being an entirely browser-based tool, it helps create prototypes right from scratch. The best part is that you can also download it offline for tests and personal use.
Reaching out to the right audience to build an MVP
This process of ideating and building an MVP is not easy.
You require a scalable MVP that you can subsequently convert into a product, don't you? This transition is the major leap that makes the process a bit turdy if you can't execute it by yourself.
Do reach out to us at TheCodeWork to explore our MVP program and get the absolute best for your startup!
Okay, now here's the crucial part. How would you know that your product is reaching the right audience for feedback? What if you are throwing it out at the wrong people?
This is exactly why I have included this segment here! The user feedback that you actively receive from your target market is the secret to your success when you aim to build an MVP.
You HAVE to tap them and see if they are ready to pay for your product. So how do you get to reach the right audience? Let's have a quick look!
MVP launch tools
It is often said that – the internet is on Reddit. And being an active person online, I assure you that this statement is not exaggerated. It is a massive social community to tap the bussing entrepreneurs. Trust me! Go for it and see the wonderful people that you come across, who might turn out to be potential leads as well.
You must have heard of ProductHunt for sure! ProductHunt is a popular online community-based website. It offers a readymade market for entrepreneurs to test their products and ideas. You can discover your early adopters and leads in the community with the correct strategies!
BetaList is similar to Facebook, just the entrepreneur-version maybe! It has become a social community for early adopters as well as startup founders who can probably collaborate and discuss synergies. Want to give it a try?
Iteration based on user feedback
Now tell me something! What is the intent of building an MVP? Validate an idea and iterate with user feedback, right? So once you collect the feedback, you need to analyze the response and work accordingly.
This further leads you to assess and analyze the functionality of the product. Fortunately, we have a list of tools to help you with that. Have a look, will you?
Tools to study and analyze user feedback
Google Analytics is a popular and in-demand platform offering analytical insights on organic traffic, engagement, as well as the conversion funnel. How helpful is that! The service enables the further optimization of your web content for SEO and helps escalate sales too.
HotJar is an excellent tool to understand the users' behavioral patterns when they visit your website. You get to analyze their usage patterns and preferences. It is a user-friendly and straightforward tool and the setup doesn't require any rocket science as well. How perfect is that!
Overview
Comprehensive product research is a guarantee of success. Any budding entrepreneur needs to stay in close proximity of startup enthusiasts like ourselves and keep adding to the knowledge and experience of product building.
Hopefully, we have been somewhat helpful with this article here. Just don't give up on the process. Remember, slow and steady always wins the race!
Trust me, ideas are overrated. Execution is everything, so start with the step-by-step approach of MVP and keep growing. Also, if you think all of this to be a hassle, please do talk to us and explore our exclusive MVP program. We are here for you!