Reading Time:
9
minutes
Why are we talking about web development trends out of nowhere today? Let's start with a hook here! Following the COVID-19 pandemic, the whole world is gradually shifting to the online podium. Don't you agree? Starting from home bakeries to handicraft shops to retailers, every small and large business is going digital.
Why so? Well, they have realized that it is the best way to reach a wider audience base and expand the business.
So, if you are looking to scale your business, it is important to establish your presence online. Simple!
But how would you go about carving your own niche on the internet? And this is exactly where web and app development comes in.
We will stick to the web development segment in this blog and continue with App development in the next article. Deal?
As we know, web development is essentially the process of designing, developing, and maintaining applications and websites. Anyone and everyone are doing it now. How will you stand out?
By following and sticking to the web development trends that keep popping up every now and then, what else!
All this burns down to the fact that the technical aspect of business (web development here) is the frontrunner in the sphere of business and startup innovation. So, as a business owner and entrepreneur, you always have to think ahead.
Now, if you want to scale your business in 2022, you must be aware of the latest trends in the field.
So, read on to know more about the top web development trends of this year through the tech experts at TheCodeWork!
Top Web Development Trends in 2022
The world of website creation is ever-evolving. From just 10 websites in 1992, we now have over 1 billion websites–and that number is increasing every day.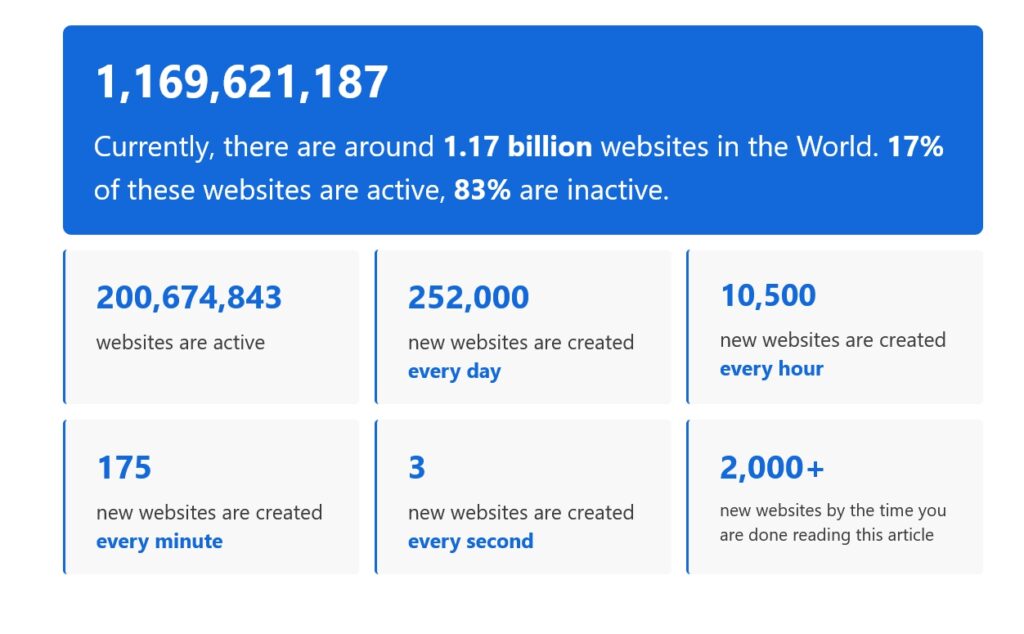 Source: siteefy
Amidst this sheer competition, scaling your application can be difficult. Since all the elements of your application's tech stack won't scale at the same pace, you have to carefully plan all the steps and design your website keeping all these elements in mind.
Furthermore, due to the sheer number of web apps out there, you are sure to face stiff competition as soon as you launch your app. I know this is a little daunting at first.
But following the latest web development trends will help you stay a cut above the competition. It will also enable you to create innovative web designs and improve your application's overall performance. And I am sure you would definitely want that for your business!
That is why we at TheCodeWork, have compiled a list of the top web development trends from our knowledge and experience, that are sure to dominate the market in the coming months. 
So let's jump straight into it!
Progressive Web Apps are not entirely new in 2022. In fact, they have been around for some time now. But, all signs indicate that PWAs are going to become the next big thing in web development in the coming year.
So what are progressive web apps?
Source: gfycat
Progressive web apps are basically the driving forces that are bringing our web surfing experience closer to that of native mobile apps. They are the most advanced technology in web development.
In general, Progressive Web Apps are manifested as a websites containing features that were previously only available in native apps (such as push notifications, or even offline access).
Furthermore, Progressive Web Apps come with a whole slew of advantages. Let me list them out for you:
PWAs are relatively cost-efficient
They are flexible and are easy to maintain,
They provide increased security, and, last but not the least, 
PWAs are very user-friendly. 
What's not to like about that, tell me?
Let's move on to an example.
Twitter Lite is a Progressive Web App that blends the best of current web and native app capabilities.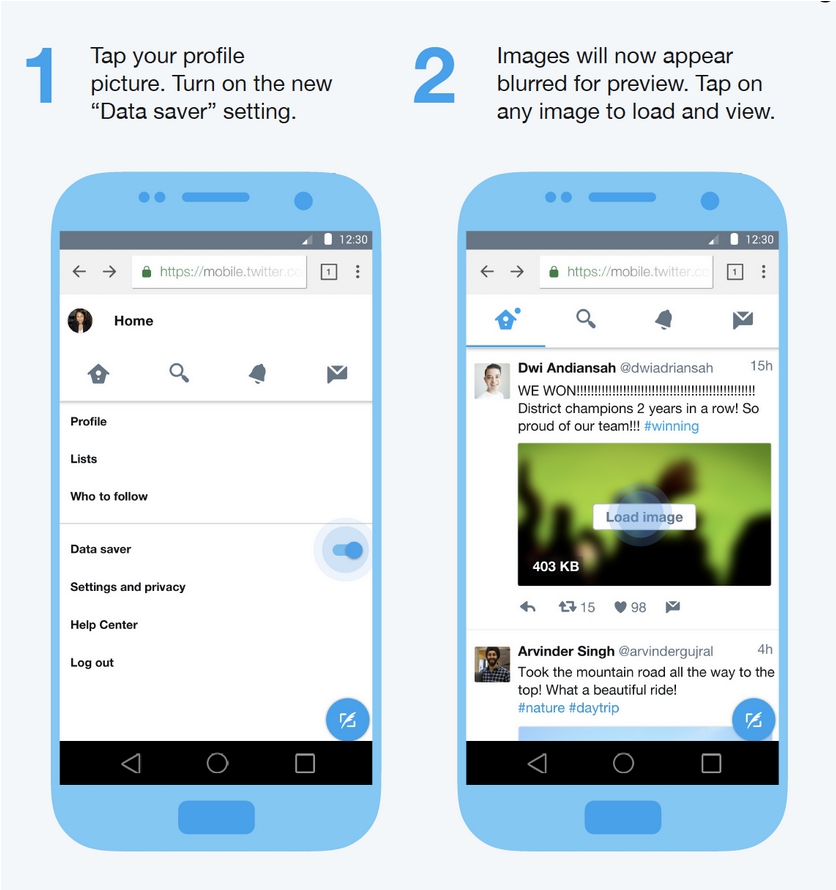 Source: Twitter
In April 2017, it became the default mobile web browsing experience for all users worldwide. Since then, Twitter has reported:
20% reduction in bounce rate
75% increase in Tweets uploaded
A whopping 65% growth in pages per session
Other companies that have benefited from using PWAs include OLX.com, Alibaba, and The Washington Post.
Single-Page Applications (SPAs) are perhaps one of the most notable current advances in web development. SPAs are an excellent approach to building an interesting user experience.
Source: softermii
Let me explain.
They are basically online applications based on JavaScript that load one HTML page in a visitor's browser. In other words, they are web pages or web applications that only load one document, operating completely on a browser.
If you look closely, you will find that single-page applications automatically update content as required without even needing to refresh the page.
You can browse SPAs without requiring the server to load data continuously.
SPAs improve app performance, giving you the impression that you are working with native software.
How cool is that! 
The development community, including tech giants like Google and Meta, have all embraced SPAs.
Fun fact: You browse a single-page application every time you open your Gmail account.
Optimized voice search is another web development technology you simply cannot ignore in 2022. As per reports by Grand View Research, virtual voice search assistants like Siri and Alexa have experienced unparalleled market growth in the past year. And they are expected to continue to develop fast in the future.
Voice Search Optimization has some noteworthy benefits:
It is a hands-free technology that allows users to have a smoother, quicker web experience.
Using optimized voice search will grow online traffic for your website or application, and keep you ahead of the competition.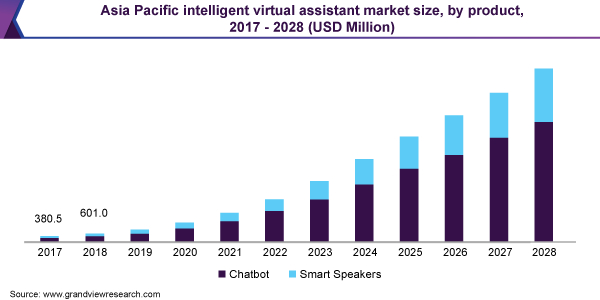 Nowadays, consumers use their smartphones and other devices as well to conduct voice searches. Consequently, voice search results will begin to rank higher and appear more frequently on search engine results pages.
I'm sure you are aware of this!
Interestingly, research has forecasted that voice assistants will be a fixture in as many as 55% of homes by this year. To accommodate the high demand, more tech companies are introducing innovative devices, such as Google Home and Apple HomePod.
So hop onto this web development trend now!
As consumers, we now demand both faster and more engaging digital experiences. Don't you agree? And this is one of the main reasons for the popularity of Motion UI.
Source: inVision
A front-end framework, Motion UI has a number of advantages:
It allows you to create completely responsive websites and mobile apps– with moving elements! You may design a component that slides, rotates, bounces, or transforms, using the Motion UI framework.
Motion UI adds life to your web application and captures any visitor's attention.
If done properly, Motion UI makes it easier for customers to navigate your web application.
It can be applied just about anywhere on an application. You can use it to insert videos as well as create advertisement banners. Pretty versatile, right?
Web applications like Google Translate and Uber have utilized Motion UI to their best effect. Motion UI has helped to make these applications more interactive, informative, and simply more fun to use.
Nowadays, Motion UI has become more accessible than ever before and is on its way to becoming one of the top trends in web development this year. 
How many times have we watched, with horror, news of data being leaked online? In June 2021, hackers breached LinkedIn's data center and obtained the personal information of around 700 million members.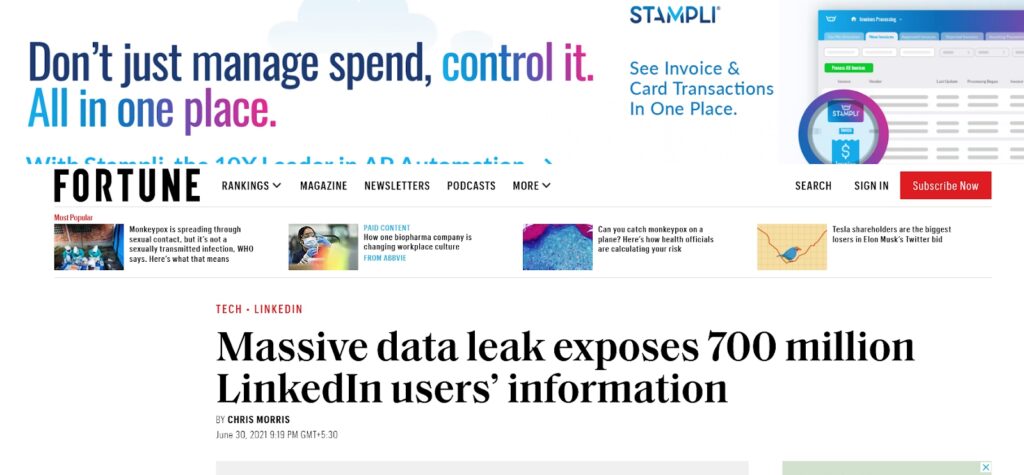 To prevent such leaks, ramping up data security has to be a top priority for web development companies.
The latest website technology in cybersecurity is concerned with protecting data from hackers and cyberattacks.
Cybersecurity technology is used by both individuals and corporations to stop unauthorized access to data storage systems.
A strong data security infrastructure can prevent hackers from gaining access to, modifying, deleting, damaging, or extorting essential data from a company's or user's systems.
Most tech companies have ramped up their cybersecurity policies in recent years. Prominent players in the game, like Google, IBM, and Tata Consultancy Services all have robust data security plans in place to prevent any unwanted loss of information
So lookout for this crucial web development trend to scale your application in 2022.  
So what is serverless architecture? Well, Serverless architecture allows web developers to design as well as support software without having to think about the infrastructure underneath.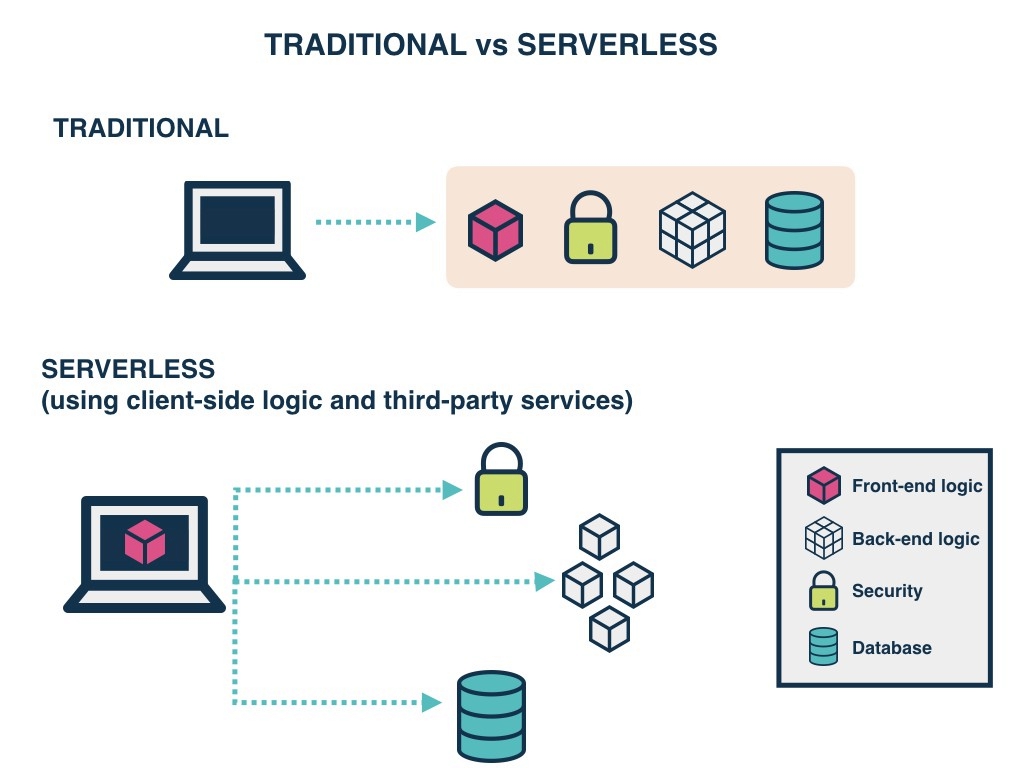 Source: freeCodeCamp
But why make the switch to a serverless architecture? Basically, it streamlines a number of operations. What are they?
Serverless architecture, in particular, eliminates data loss.
Helps in preventing overload of the web page.
Additionally, operations are performed using cloud resources rather than servers.
Makes your application more versatile and flexible.
As a result, web developers gain a huge advantage because they now need fewer resources for project design and technical support. Doesn't that sound like a sweet deal?
Companies like Netflix and Nordstrom have switched to serverless architecture, and it is time you do, too!
Here comes the buzzword of the generation – Artificial Intelligence.
Well, it is slated to be one of the top web development trends of 2022. In fact, recent reports show that around 97% of organizations use some form of artificial intelligence to scale their business.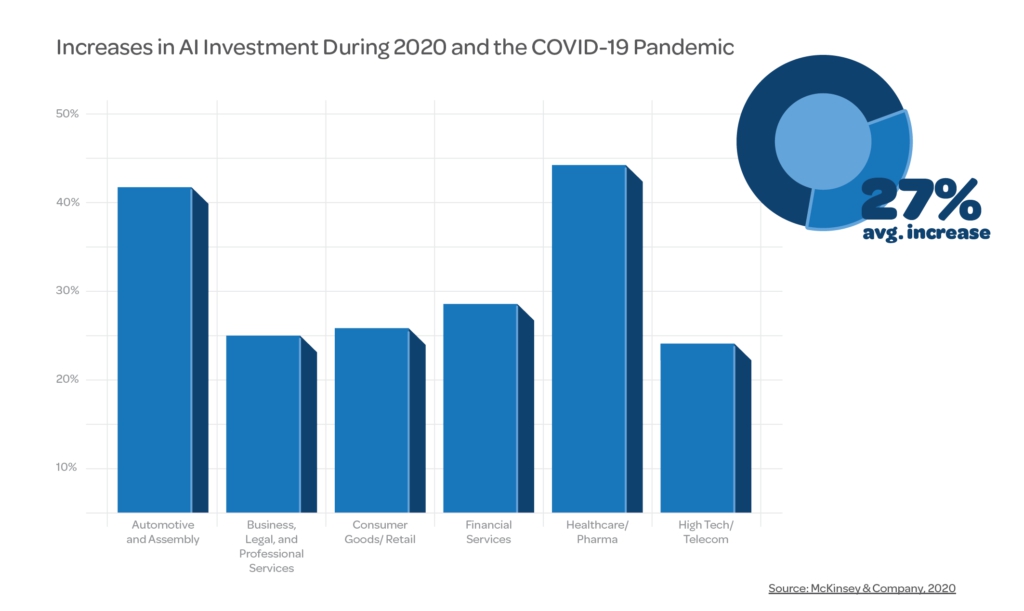 Now about AI (Artificial Intelligence) technology. I'm sure we are all aware of the role of AI in our lives, but here are some of the advantages of using AI for your web development process:
Artificial Intelligence allows web developers to create virtual assistants who interact with and guide visitors to the site.
It also enables quicker gathering and analysis of data. You may utilize this information to develop your website and market it more effectively throughout all search engines once you get it.
Chatbots operating through artificial intelligence also increase user engagement rate, which in turn enhances your site ranking. Consequently, you can scale your web application more easily if you're using artificial intelligence.
Given these obvious benefits, it is not surprising that many companies have stepped up their AI game, especially when the world shifted to a digital platform during the COVID-19 pandemic.
We deal with some form of AI on a daily basis– be it Swiggy chatbots or Amazon's Alexa. But that's not all! Leading companies across a number of industries use artificial intelligence as a way to expand their business. Siemens, Intel, and Salesforce are some prominent examples.
This web development trend is all about user preference and aesthetics. A dark Mode UI enables users to view content written against a dark background. This creates a more dramatic and sophisticated web surfing experience for users.
Source: Dribbble
Because of the soothing visuals, a dark-themed web application makes it easier for users to enjoy web browsing regardless of device.
Dark Mode UI saves energy and increases the battery life of your device. As a result, it contributes to enhanced productivity.
According to a study done by Polar, about 95% of customers prefer the dark mode to the light mode on their devices.
The dark mode UI has exploded in popularity around the world, and we expect it to continue to grow in popularity in the future years.
Tech giants like Meta, Google, and Reddit have already introduced the Dark Mode UI, and it's only a matter of time before this trend is picked up by others.
We can safely assume that Dark Mode UI will become the norm in 2022 since many web development companies offer integrated options to switch between light and dark modes.
Wrapping Up
In today's uber-competitive market, you have to keep up with the times in order to stay in the game. Consistent, well-executed upgrades can help your application expand and get to the top.
Keeping abreast with the newest web development trends will ensure that you are using the most advanced technology and customizing your application to meet the latest customer demands.
Needless to say, this will greatly help you to scale your application! A setback in following trends and keeping yourself upgraded, on the other hand, can drag you down.
As web development involves both frontend and backend development. To handle both aspects, it might get tedious to hire the right web developers or appoint a tech team with expertise. This is where we come in!
At TheCodeWork, we offer comprehensive web development services that will surely solve all your roadblocks related to this field.
So what are you waiting for? Make sure you are up to date with the latest web development trends of 2022 so that your application continues to engage and delight visitors every day.