Reading Time:
10
minutes
Whether you want to book a taxi or watch a movie, nowadays there is a web application for everything. So why not one for business too? And surely, there are some fantastic web applications out there that will make the monumental task of running a business that much easier! Indeed, there are almost too many options. So, if you're wondering which one will be the best suited to your business, you've come to the right place! In this article, we'll be exploring the top 10 web applications for business, that are currently available.
But before we start, let's clear the air on what exactly a web application does. Web apps are basically software programs that perform a specific task. It can be anything from booking an overseas trip to calculating your taxes!
You can access a web app through an internet browser. And the best part is– a web app will adapt itself to whatever device you're using it on. How convenient is that?
As we at TheCodeWork know very well, building a startup from the ground up is no mean feat. There are so many things you need to take care of! Whether it's creating employee schedules, tracking accounts, or coordinating various teams– the list is truly endless.
So if you're feeling overwhelmed by the logistics of running a business, fear not! Because TheCodeWork's Zero Equity Startup Ecosystem is here to the rescue! Get assistance for everything you need– be it funding, marketing/branding, tech support, or legal aid – all under one roof!
Give us a call to know more!
And now, without further ado, let's take a look at why web applications are the key to getting your business booming!
I hope you're excited about this!
Why use web apps for business?
Web apps have a lot to offer when it comes to helping budding startups grow. Because of their versatility, you can use a web app for practically anything! Communicating with customers, enhancing employee collaboration, sorting data–you name it.
Here are some of the major advantages of using web apps for your business:
Web applications are available 24*7. So no more worrying about time zones!
Most web apps automatically back up your data across multiple devices. Say bye-bye to data losses!
Nowadays, web apps come with advanced security measures, so your data remains protected, always.
They're easy to scale up.
You can use a web app across several devices with minimal compatibility issues. No laptop? No worries! Get your work done on your phone!
In general, web apps are maintained and upgraded regularly, from a central site.
Web apps remove any device space constraints. You can choose to store your business data in the web app's cloud.
All these features, combined with how cost-effective most web apps are, make them the ideal choice for both small and big businesses.
Have a stellar idea for your very own web application? TheCodeWork team can help you make it a reality!
Click here to know more!
Top 10 web applications for business (I know you waited for this…)
Okay, if you're reading this, you're probably facing one of the following two situations:
Your business is ready to venture into the digital world, but you're not sure where to begin, or
You are already using a software system to handle business tasks– like payroll, intra-team communication, schedule shifts, etc. Unfortunately, it's burning a hole in your pocket or just isn't making much of a difference. Trust me, we've been there too.
In either case, you want apps that are cost-effective, simple to use, and can take on more workload when you want to scale your business.
Tell me, am I right or am I right?
I know I'm right!
This is why, I've compiled a list of some of the most popular–as well as some lesser-known–web applications that are sure to take your business management game to the next level.
Let's begin!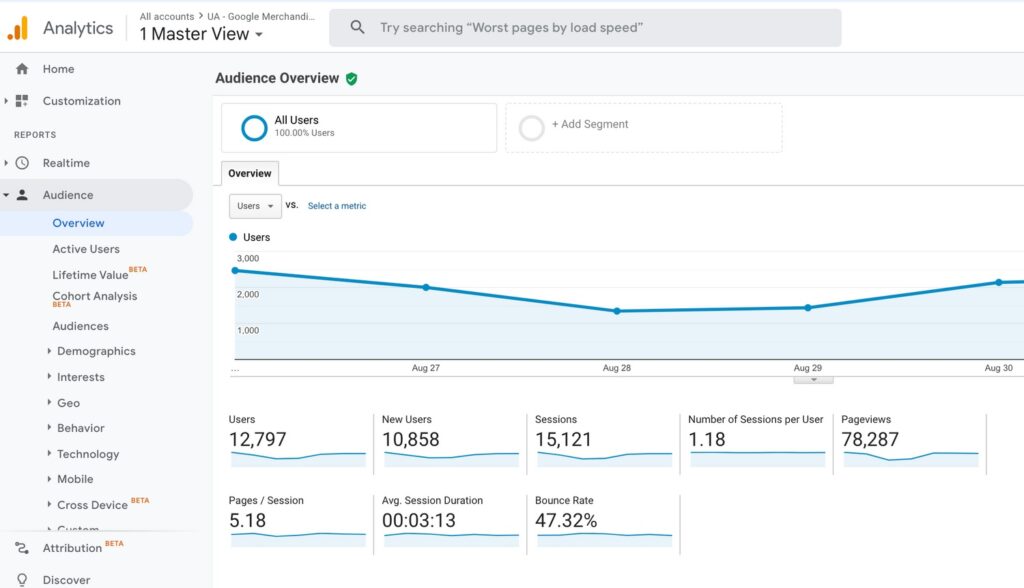 With the COVID-19 pandemic leading to global shutdowns in the past two years, most businesses shifted online. So it's not surprising that most businesses have websites these days.
If you have a website for your business–and I strongly recommend you do–you can use it for a whole lot of reasons. Like monitoring the traffic to your website, how long people stay on your site, and other important metrics that will help you iterate your business strategies.
Don't have a website for your business yet? How about reaching out to us to help you build one?
Click here for a chat with TheCodeWork team now!
And the one web app that will help you to collect all this data is— you guessed it–Google Analytics!
Google Analytics provides you with customer insights that'll assist you in making the most of your visitors and converting them into potential customers.
With top-notch features like custom reports, funnel visualization, social settings, and traffic sources, Google Analytics will help you to:
Analyze how your website is performing
Understand where your visitors are coming from
Visually track their journey on your website
Track social media activity and keep up with the latest trends
Integrate data from other sources
…and much more. Needless to say, all this information will help you to make better, more well-informed decisions for your business.
Pricing: Freemium model. A paid version is available if you want increased data volume capacity or customized metrics.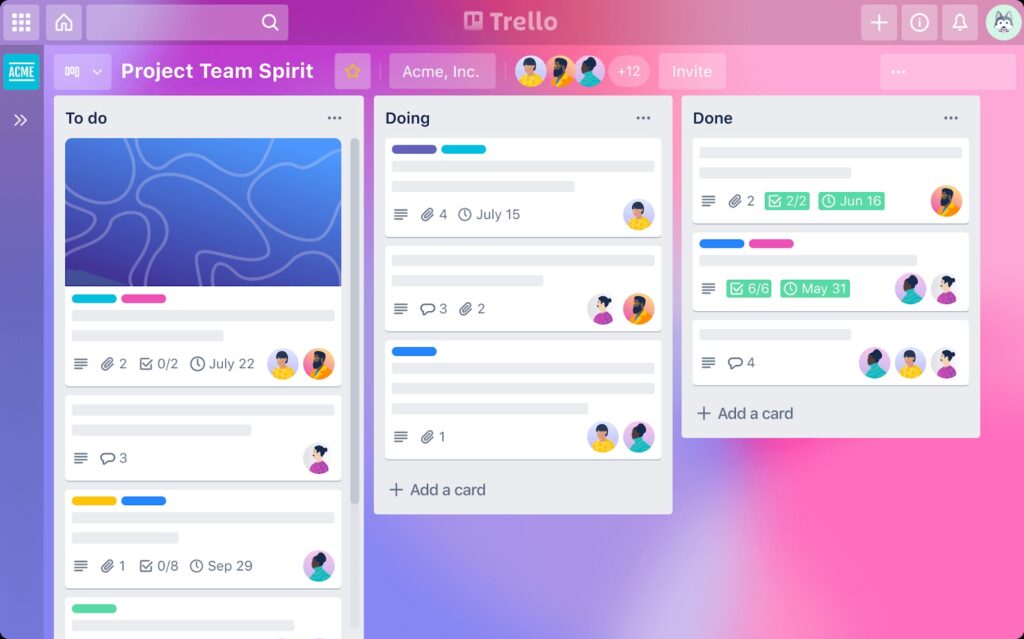 Work from home, remote work– these are terms we've all become familiar with in the last couple of years. However, overseeing a team remotely can become quite overwhelming at times. You agree, don't you?
Luckily for you, Trello has been perfecting remote team management for over a decade!
One of the smartest web-based collaboration tools out there, Trello has a wide range of features. All of which you can use to manage multiple teams and projects at once, wherever you are. Tell me, doesn't that sound just great?
Trello facilitates:
Team collaborations
Monitoring the status of individual tasks as well as that of teams.
Streamlined and Agile workflows
Managing content orders and social media campaigns
Pricing: Freemium, with a paid version available for added boards and collaboration features.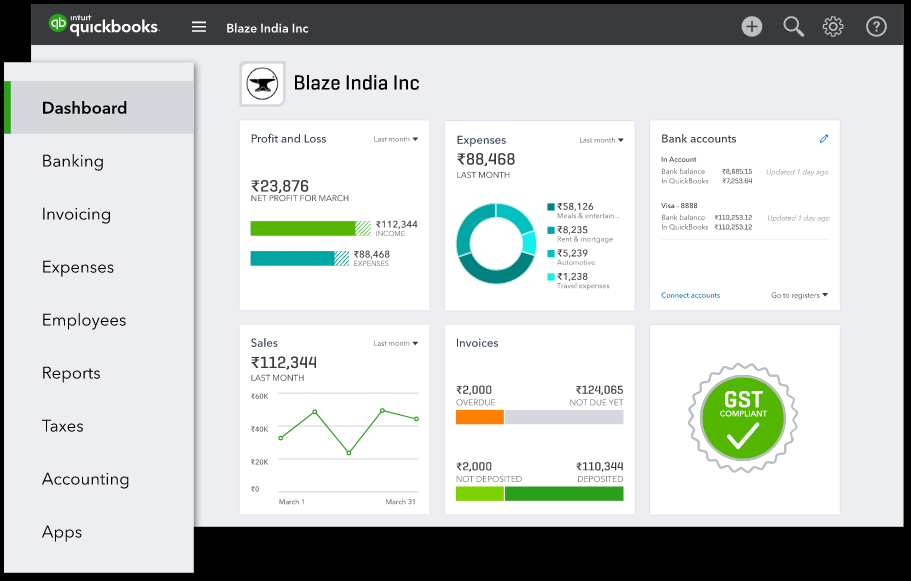 If you are a business owner, you need to learn how to handle money. It just comes with the job, you know. And manual bookkeeping is so 1990s, come on!! Instead, why not switch to a bookkeeping software? Quickbooks is one of the best out there.
Apart from just bookkeeping, QuickBooks also provides a variety of finance and accounting tools for small businesses. With features like QuickBooks Payroll, Quickbooks Commerce, etc, you get tons of benefits like:
Paying up to 50 employees with just a few clicks
Getting the real-time status of your orders and inventory, all in one place
Cloud storage for your accounting books, so you can access them from anywhere
Tracking your employees' billable hours
Establishing recurring invoices and
Uploading photos of receipts for tax purposes
….just to name a few. You can connect your business bank accounts (or any other digital payment platform) to your QuickBooks account and you're all set!
Pricing: The freelancer plan begins at $7.50 per month.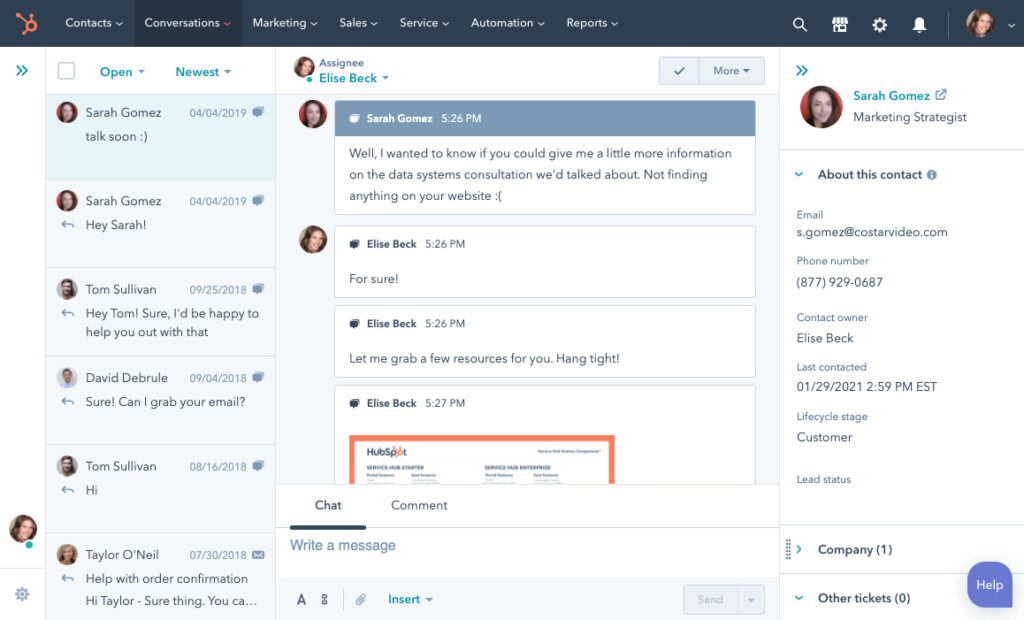 Love it or hate it, you cannot neglect the importance of a well-mounted marketing effort. And effort it sure is! However, HubSpot can make it much simpler for you. HubSpot is basically an inbound marketing and sales platform. It offers a wide range of tools for SEO, content management, social media marketing, and the like.
Here are some of HubSpot's best features:
With its contact management system, you can easily add information about contacts/leads/prospects/companies to a centralized system. So it becomes easier for your team to manage client data
It facilitates improved customer conversion and enhances customer relationships
It allows you to attract new customers by converting leads and closing deals
You can easily integrate it with other web applications for smoother collaboration
Pricing: Freemium model. HubSpot is free for up to 250 contacts.
Scaling-your-business woes got you bogged down? Don't worry! Reach out to TheCodeWork's Startup Ecosystem to learn the tips and tricks of startup scaling, and much more.
Click here to book a free consultation with our team!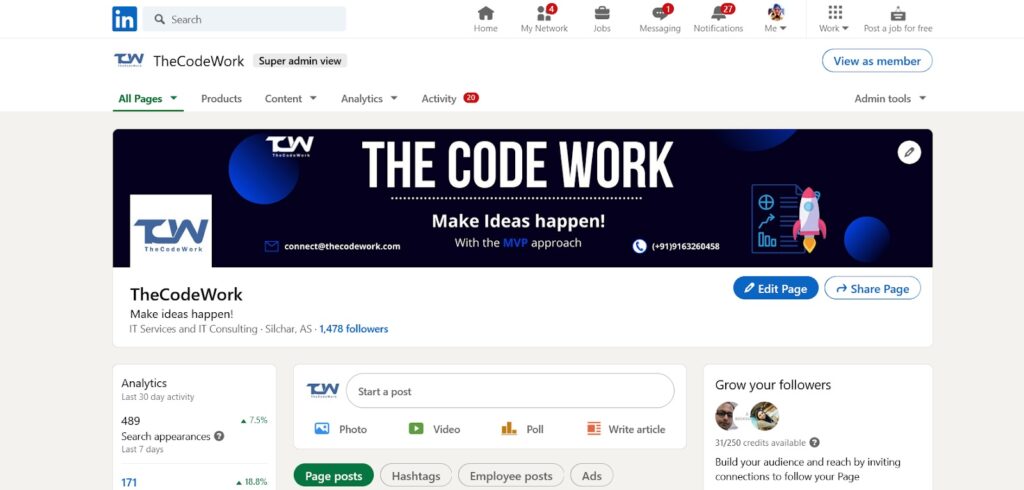 I know, I know, who hasn't heard of LinkedIn?
And yes, it lives up to the hype! LinkedIn is like Instagram–for business. In other words, it is an employment-focused social networking platform. LinkedIn has some truly amazing features that you can use to boost your business network. Let me walk you through!
LinkedIn allows you to:
Find individuals and similar businesses in your industry, so you can build fruitful professional relations
Show off your business so interested individuals can reach out to you; basically, increase your brand visibility
Choose employees with the required skill set from a vast pool of options
Keep abreast of recent industry trends
Tell me, how cool is that! And the best part is, you don't have to pay a dime to start using LinkedIn!
Pricing: Freemium, with paid versions starting at $79.99/monthly per user.
P.S.: Are you searching for the right team to get started? Well, until you find your Perfect Match, you can always outsource! TheCodeWork's Startup Ecosystem can provide expert assistance on everything startup related–be it tech support, marketing/branding, funding, or legal aid.
Give us a call to know more!
TheCodeWork's personal favorite web applications
And, now that you're familiar with some of the best-known web apps for business, let me present some web applications that we at TheCodeWork love and use ourselves!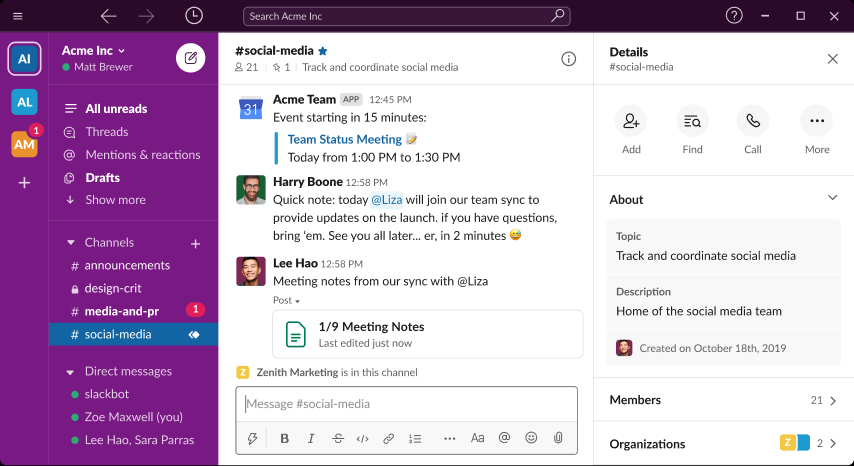 Slack is a business messaging platform that enables people to easily access all the information they require. Slack eases organizational communication by bringing employees and teams together in one space. What's more, it works to integrate a wide variety of communication channels like Twitter, DropBox, Stripe, and many others!
Featuring advanced technical tools for smooth functioning, Slack lets you perform several functions like:
Have private one-on-one discussions with your team members or clients
Hop into a quick secure voice/video call to discuss important issues
Categorize your projects into different channels
Sync data across all your devices so you are connected on-the-go
Customize notifications according to your liking (trust me, this feature is more useful than you think!)
Sounds pretty good, doesn't it? For one thing, I can say for sure that Slack has definitely facilitated smoother team communications within TheCodeWork team!
Pricing: Freemium model, with paid options starting from $8.75/user per month.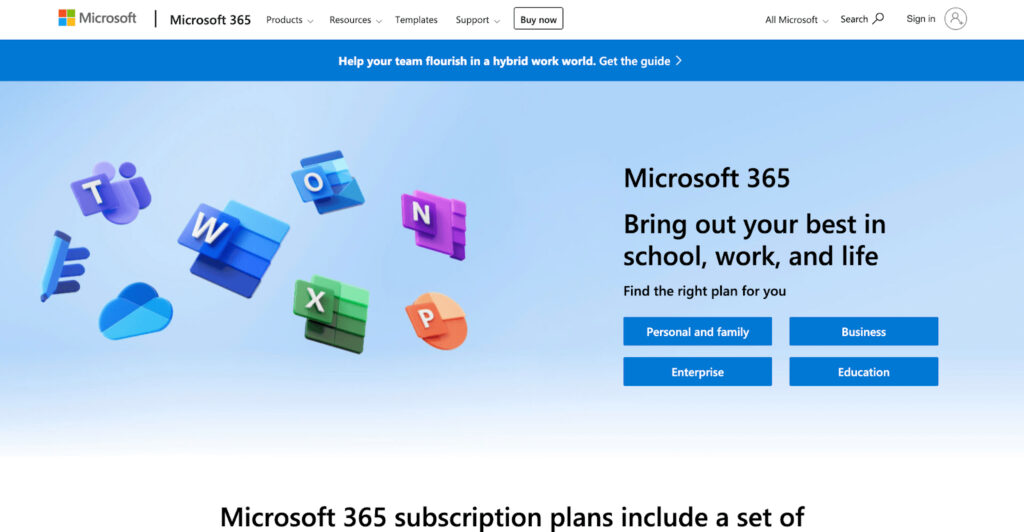 Microsoft 365 is your one-stop shop for almost anything work-related. MS 365 contains just about everything you'll ever need to get any work done. Word, Excel, Outlook, PowerPoint, Teams, OneDrive–you name it.
You can choose to install any or all of these web apps on your devices and you're good to go! And since each app comes with a plethora of features, you can easily perform many complex tasks too. How convenient is that!
Microsoft 365 offers some really useful functionalities such as:
Easy accessibility through multiple devices
Team chat and easy document sharing
Microsoft Planner to manage workflows
Co-authoring documents in real-time
Automatic updates and data sync
With Microsoft 365, you can take your work with you wherever you go. It's also the number one reason why you can reach out to TheCodeWork team whenever you want! A win-win, don't you think?
Pricing: Paid model begins at $6 per month per user.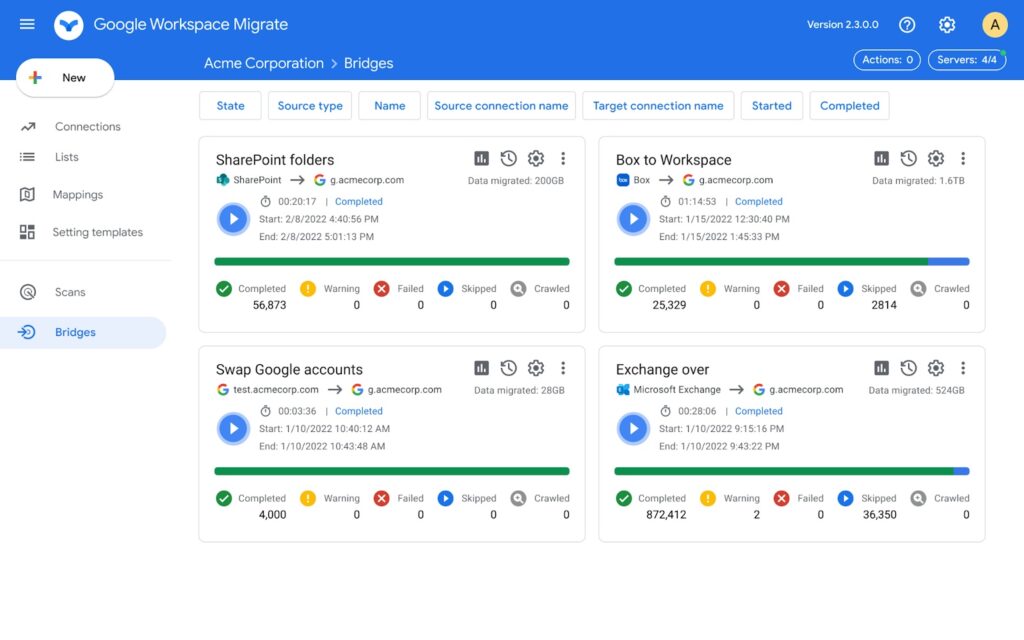 A more beginner-friendly alternative to Microsoft Office 365 is Google Workspace. Google Workspace is essentially a productivity tool that lets you do your work in the cloud. Through a web browser. Like I'm doing right now as I write this blog. *wink*
Google workspace comes with a set of apps like Google Docs, Google Sheets, Google Slides, and of course, the ever-popular Gmail. You can access all of these via a web browser.
Google Workspace is super simple and easy to use, and it's best for team projects. Google Workspace offers some convenient features like:
Automatic real-time data backup and syncing across numerous devices
Easy document sharing so that multiple people can work on the same project simultaneously
Cloud storage to save up on-device storage space
Shared calendars so you can track employee engagements and team meetings
…and much, much more.
Pricing: Paid model starts at $6 per month per user.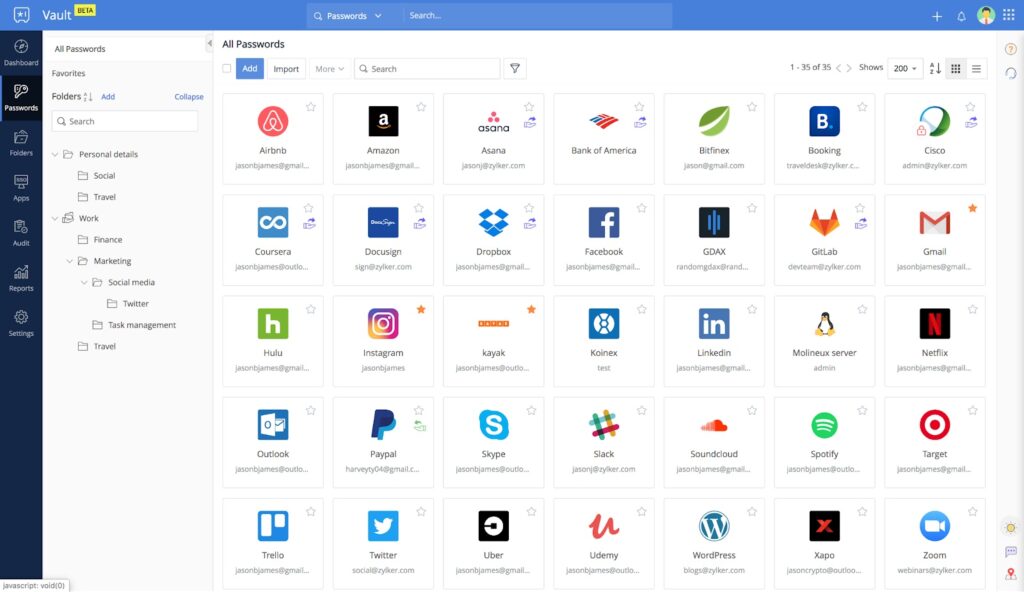 Zoho is a cloud-based CRM solution that assists entrepreneurs in automating business operations and enhancing customer experience. Sounds a little complicated, doesn't it? Well, let me simplify it a bit.
Zoho is basically a one-stop cloud platform for all your business needs. It offers a huge range of software products for a variety of business purposes. Namely Zoho CRM, Bigin, and Zoho One. Together, these apps facilitate:
team collaboration,
automating sales and marketing
HR processes and software
customer relationship management, and so on.
Among the programs available are invoicing, note-taking, project management, databases, presentations, word processing, and spreadsheets.
Pricing: Freemium model, with the paid version starting from $9.16 per month per organization.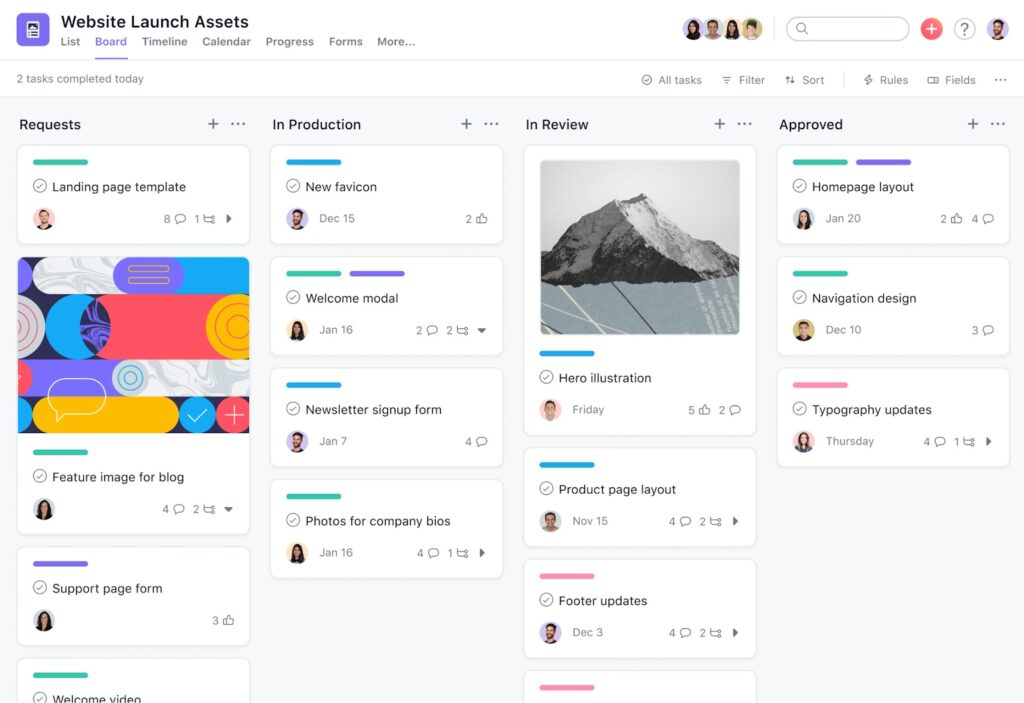 This application was created to assist teams in tracking their projects. Like the feeling of ticking things off your to-do checklist? Then this app is for you!
Asana provides some easy-to-use features like:
Visual dashboard graphs, where you can easily plan activities and track progress
Easy communication with your team members and group discussions
Simple processes to set deadlines, attach files, and
Create reports automatically
Integration with other web-based services like Google Drive, Evernote, Slack, etc., for smoother functioning
With Asana, you can always stay on top of your work and never miss out on a single detail. How good does that sound?
Pricing: Freemium, with paid plans starting from $10.99 per user per month.
Bottom Line
Whether you want to optimize your company's productivity, streamline invoicing, or boost digital marketing efforts–web apps are the way to go.
However, if you find that current web apps are not meeting your business needs, you can always opt for a custom business web application!
Tailor your very own web application for business with TheCodeWork's web app development team! Reach out to us now to get a web app developed to meet your specific business needs!
Click here to know more!